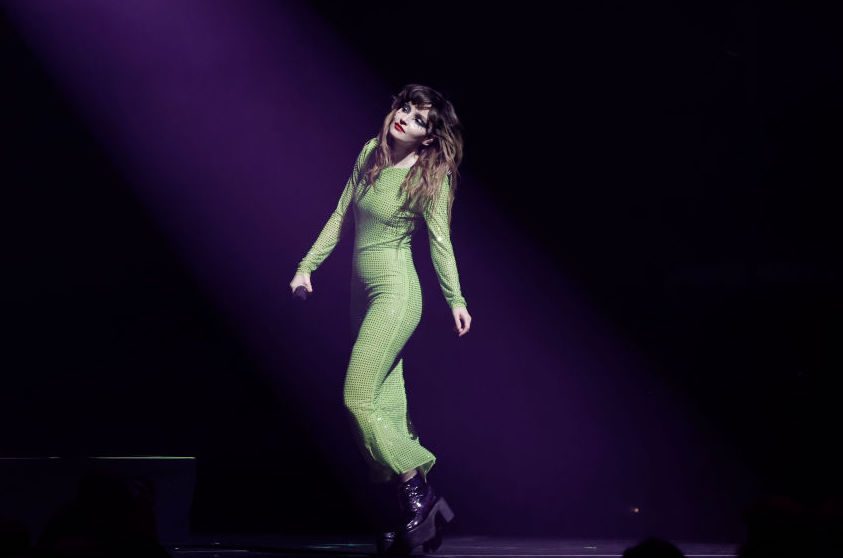 Lauren Mayberry has been singing for the Scottish dance-pop group Chvrches for well over a decade, and she's promising the worlds that she's not going to stop doing that anytime soon. But right now, Mayberry is in the midst of launching a solo career. On Friday, she released the piano ballad "Are You Awake?," her first-ever solo single. And last night, she launched her first solo tour in Washington, DC.
Last night was Lauren Mayberry's first-ever solo show, and it was a bit of a warm-up. Mayberry and her band played at Washington's 9:30 Club. Tonight and tomorrow night, she'll move to the much-larger Anthem, where she'll open for Death Cab For Cutie and the Postal Service. Her set last night wasn't terribly long, but it included live debuts of a number of new songs, as well as a polite cover of the almighty Madonna classic "Like A Prayer." She didn't sing any Chvrches songs.
Notably, most of Lauren Mayberry's songs are not piano ballads like "Are You Awake?" Instead, many of these tracks are frisky, playful dance-pop that's not too terribly distant from the stuff that Mayberry makes with Chvrches. Mayberry herself broke it down from the stage: "There's two depressing slow ones, and then the rest have a bit of pep." Mayberry looked like she was having fun performing these new songs. Below, check out some fan-made videos and last night's setlist, via Setlist.fm.
SETLIST:
01 "Bird"
02 "Shame"
03 "Change Shapes"
04 "Mantra"
05 "Under The Knife"
06 "Crocodile Tears"
07 "Like A Prayer" (Madonna cover)
08 "Are You Awake?"
09 "Sorry, Etc."
Lauren Mayberry hasn't announced an album yet, but it sure seems like there's one on the way.