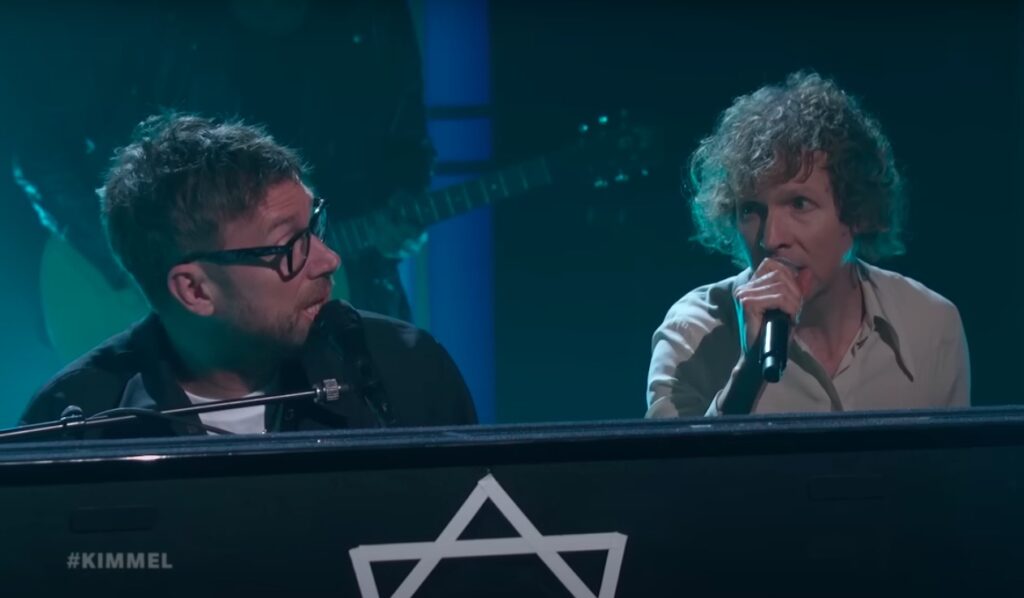 Right now, we're in that stretch between Coachella weekends, where a whole lot of big stars are in Southern California. Most of them don't have too much to do, besides wondering if they're going to get the call-up to replace Frank Ocean as Sunday night's headliner. Inevitably, a few of them get book to perform on late-night talk shows in Los Angeles, and that's how we got Damon Albarn and Beck, two titanic heartthrobs of '90s indie-adjacent alt-rock, singing together on Jimmy Kimmel Live.
Last Friday night, Damon Albarn's Gorillaz played the main Coachella stage just before headliner Bad Bunny. They brought out many guests, including De La Soul, Del The Funky Homosapien, Thundercat, slowthai, and the Pharcyde's Bootie Brown. They did not bring out Beck — who, like, Gorillaz themselves, is a past Coachella headliner. But Beck is on the new Gorillaz album Cracker Island. Back in September, Beck joined Gorillaz onstage in Los Angeles to debut the song "Possession Island." Last night on Kimmel, Beck sang that song with the band again.
"Possession Island" is a seen-it-all ballad, and Beck and Damon Albarn looked like old show-business pros singing it together on Kimmel. Beck spent most of the song leaning on Albarn's piano, and the two of them hit some lovely harmonies. This was Beck's second time on Kimmel this year; he sang his song "Thinking About You" with Pino Palladino and Black Mills on the show in February. Watch the performance below.
Cracker Island is out now on Warner Records.