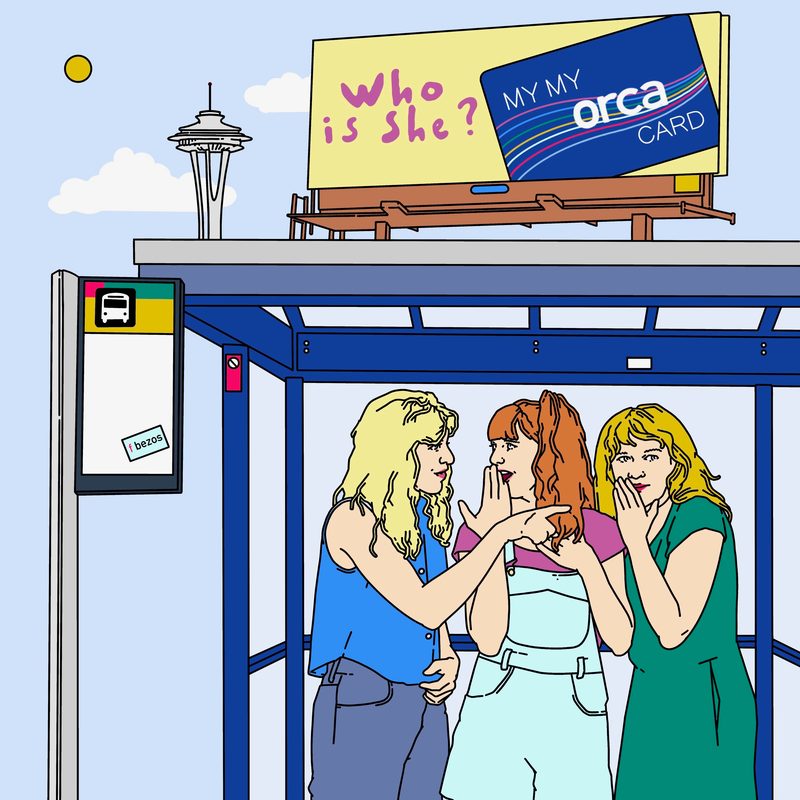 Who Is She?, the Seattle indie supergroup featuring members of Tacocat, Chastity Belt, and Lisa Prank, were in the midst of a three-game stint as the house band for new NHL franchise the Seattle Kraken when they performed a Seattle-specific update on Le Tigre's "My My Metrocard" retitled "My My Orca Card." The tweaked lyrics included a shot at Amazon billionaire Jeff Bezos, whose company bought the naming rights to the Kraken's arena and named it Climate Pledge Arena. Replacing the original's Rudy Giuliani diss, the band sang, "Oh no, Jeffrey Bezos/ He's such, a total jerk/ Shut down, all the bookstores/ Billionaires do not work." According to the band, this got them disinvited from the remainder of their house band gig. (For the record, the team claimed the reason for the band's firing was unprofessional behavior.)
Today Who Is She? have shared a studio recording of "My My Orca Card," co-produced by the band and Jenn Champion. They shared this statement:
This is our take on the Le Tigre song "My My Metro Card." We love Le Tigre and public transit and wanted to make this song about Seattle, so we added some of our favorite Seattle bus lines and sprinkled in a local billionaire villain. It was also tied into a local sports scandal so it's now technically a jock jam.
Listen below.