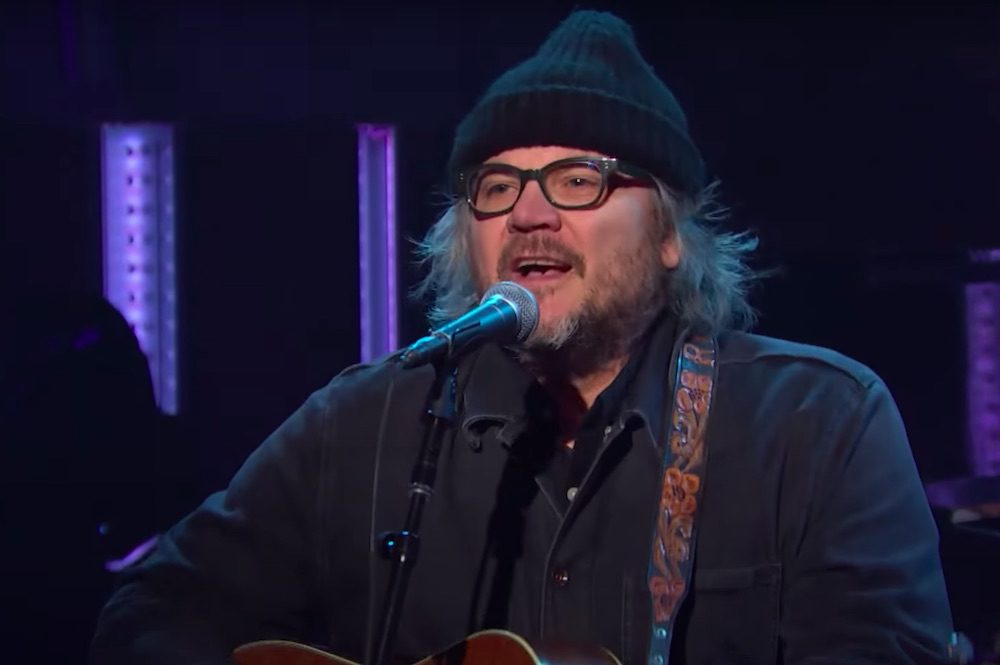 It's been almost a year since Wilco released their double album Cruel Country, and the band aren't really doing the whole promo-cycle thing anymore. Instead, Wilco are messing around with other things. Jeff Tweedy produced a Rodney Crowell album. The band has another one of their Sky Blue Sky festivals coming up in Mexico. The whole band joined Yo La Tengo to play some cover songs onstage in Chicago last week. But Wilco still did musical-guest duties on last night's episode of Late Night With Seth Meyers. Late-night bookers just love these guys.
On Seth Meyers last night, Wilco played their Cruel Country single "Tired Of Taking It Out On You." It's always a pleasure to watch people who are good at their jobs, and Wilco are good at their jobs; they sounded casually lovely last night. Also, it's kind of fun to imagine that they chose this song as a kind of veiled message to Seth Meyers. That's almost certainly not the case, but let's just consider the possibility anyway.
Jeff Tweedy also sat for an interview with Seth Meyers, and he claimed that Meyers' bandleader Fred Armisen "owes my wife a lot of money." (Tweedy's wife apparently hired Armisen to work the door at Lounge Ax, the Chicago club that she owned, and that was Armisen's big show-business break.) Armisen promised her half of his earnings, and he confirmed that the signed document was real. Tweedy also talked about how he has a card that gives him free burritos for life from Chipotle. (The card eventually stopped working.) Watch the performance and the interview below.
Cruel Country is out now on dBpm Records.