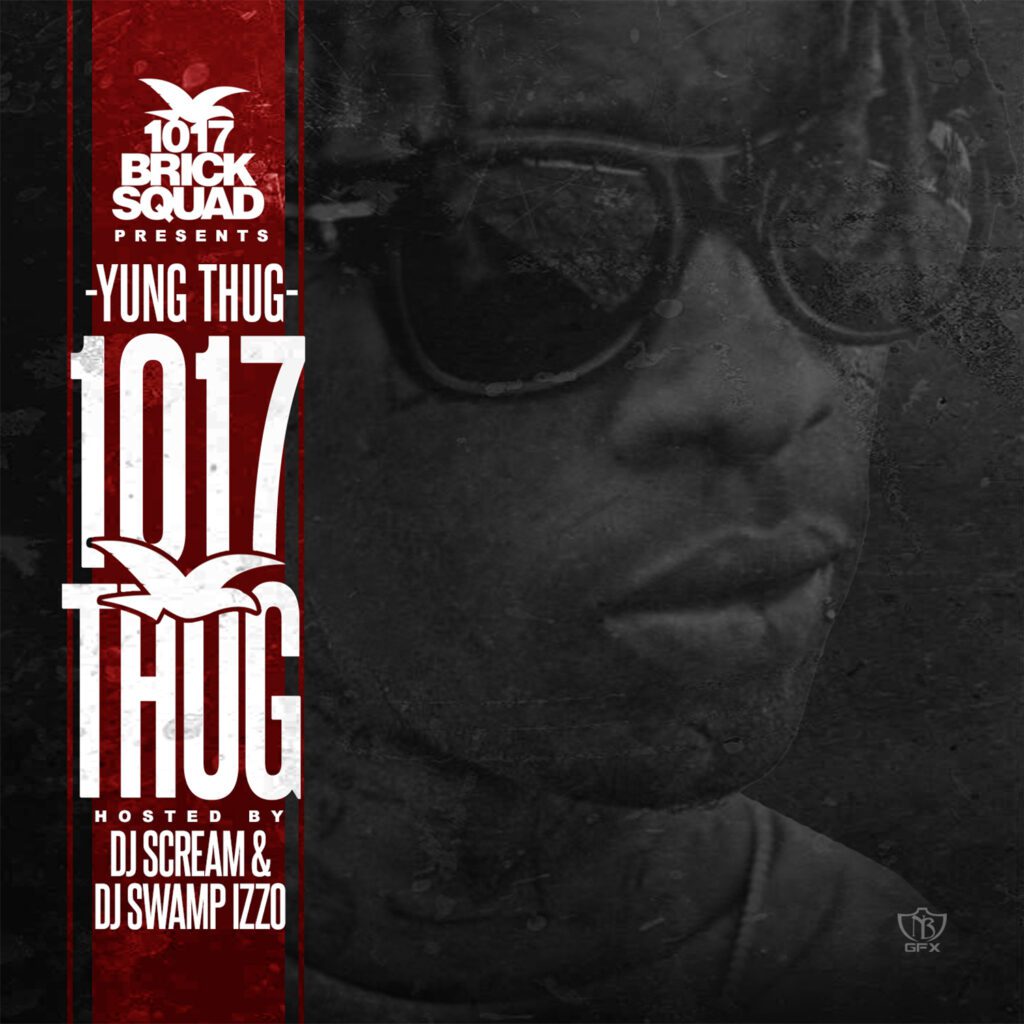 Young Thug is not an alien. He's not a "post-verbal" pioneer, a mumble rapper, a genderqueer revolutionary, a gambling addict with an eating disorder, a crime lord, or our lord and savior. Without fail, people twist their takes into grotesque balloon animals when trying to wrestle with Young Thug's groundbreaking presence. Critics, commenters, Lyor Cohens, and cops rarely have any idea what to do with him, but the general public does, gradually elevating the once-cultish figure into a cultural bellwether over the course of a decade that he spent skywriting his name all over the vast horizons of popular music.
Once upon a time, one faction was convinced he was a threat to rap's traditional values, while the other treated him like a divine being with no stylistic precedent. The degree to which Thug has since pulled the rest of the genre into his orbit makes those days feel like the Old Testament. We all stuttered our way to wildly oppositional conclusions, but the initial reaction was the same: what the actual fuck. Those with their ears to an online ground teeming with Livemixtapes and Datpiff uploads first encountered Thug amidst his three-part I Came From Nothing mixtape run in 2011-2012. But 1017 Thug, released 10 years ago today, was the moment that old heads, rap-history-deficient listeners, and everyone else in between were truly forced to reckon with Jeffery Lamar Williams.
The tape was Thug's first since Gucci Mane handed him $25,000 without hearing a note of his music and subsequently signed him to 1017 Brick Squad. Granting Thug access to a coterie of producers like Nard & B, C4, Lex Luger, TM88, and K.E. On The Track ensured a markedly different sound from the ICFN tapes, which were largely produced by less prestigious names. 1017 Thug is less erratic and enigmatic than its predecessors, that production team merging Thug into an established lane of Atlanta street rap and off of the windier maze of one-ways and dead ends that defined his early career. This means there's no beats as casually deranged as ICFN2's "Curtains," no vocal performances as balls-out weird as the same tape's "Haiti Slang," but also no sagging midsection populated with dated, chintzy instrumentals that Soulja Boy could've made for iSouljaBoyTellem years prior. In fact, there's very little about opener "Yeah Yeah" that could be considered at all transgressive.
Chief Keef had released a song using the same gothic Nard & B beat just months prior — which Thug slyly nods to with the Scarface-referencing line "I ain't 3Hunna, but I'm Sosa, bitch" — and after Thug's opening verse, the rest of the song is taken up by OG Boo Dirty and Heavy's more paint-by-numbers approach to rapping (see the latter's: "I'm so fuckin' hood I need a hood bitch"). Even at Thug's least flamboyant, the effect is that of putting a peacock in front of a grayscale backdrop of brutalist architecture. Look: I like some brutalist aesthetics. I like when Boo Dirty says he has yellow diamonds like he's "drippin' piss." I like "Yeah Yeah." But even when Young Thug is liberally laying on multiple tracks of ad-libs or gleefully dropping a distasteful Michael Vick joke, this song was never reinventing the wheel.
Instead, "Yeah Yeah" shows that Thug's true talent only reveals itself after the initial shock of his wild exterior wears off. His hook is delivered almost monotone in a fast, repetitive cadence that doesn't so much as hint at the technicolor exploits found later on in 1017 Thug, but it's a masterful bit of writing, building up to the line, "They'll press you, they'll press you, they'll cock back, they depressed too." That image! He's surrounded you with shooters, but they're sad shooters — are they sad because they're shooters, did their sadness lead them to become shooters, will shooting me cure their sadness or just make them sadder? That's why Young Thug contains multitudes, why every lyric, no matter its intent, opens up a microcosm of interpretations. He lunges into the future while borrowing liberally from the past; he yelps like a pomeranian then growls like a rottweiler; he contradicts himself — he is a self-contained metaverse.
Thug grew up in the Jonesboro South projects in Zone 3 in Atlanta's Southside, four doors down from future collaborator PeeWee Longway, in the same region of the city where Yung Joc, 2 Chainz, Monica, and Jeff Foxworthy began their careers. He came up in an established hip-hop ecosystem, voraciously ingesting Lil Wayne mixtapes while coming of age during a swag-rap renaissance that saw artists like Rich Kidz and Travis Porter mold Atlanta rap into fizzy pop music. While you can't construct an equation that pops out a fully-formed Young Thug every single time, the variables are clear. He wasn't formed in a vacuum.
Many people — breathless reviewers, KanyeToThe commenters, conservative rappers like Lord Jamar and Troy Ave — latched onto Thug's weirdo aspects, a reputation that led Stereogum alum Corban Goble to call him an "unquantifiable wild card" in his Pitchfork review of 1017 Thug. With the added clarity of hindsight, it seems like these perspectives missed the forest for the trees, something that an earlier, more measured Pitchfork review attempted to head off at the pass. In writing about I Came From Nothing 3, David Drake asserted that while Thug did indeed have some eccentric tendencies, it was his connection to "traditional frameworks" that gave him potential to "transcend a cult fanbase." He continued, "What Young Thug brings to the table, then, isn't just a weird, experimental approach to rapping, but presence, persona, mystique, and, potentially, star power."
That potential started coming into fruition six months later on 1017 Thug. In addition to the tape's more down-the-middle beats, Thug's hooks are vastly improved here. Listening to the ICFN tapes, you hear him exploring the cracks and crevices of his vocal range, experimenting with fitting phrases together for their sound as much as their meaning, but too often these fixations distracted from his clear gift for songcraft. Like "Yeah Yeah," every line of every 1017 Thug hook feels intentional without sacrificing a spark of spontaneity, every melodic choice uses the elasticity of Thug's voice as a clear means to an end. Even on the 100-tons-of-lead-to-the-face "2 Cups Stuffed," which could subsist solely on an ad infinitum chant of "Uno, dos, cups stuffed," he builds to that, ratcheting up the tension as a low-pass filter muffles the beat, then releasing it by switching on a dime from a stilted affectation to a triumphant yelp.
As 1017 Thug was an actual free mixtape in the very early days of streaming services — and not one of the many subsequent releases deemed "commercial mixtapes" by Thug's label — he wasn't rattling off bonafide hits just yet. But tracks like "2 Cups Stuffed" and the infectious "Picacho" had buzz and staying power beyond any previous mixtape cuts. The path Thug would take all the way to Camila Cabello's #1 single "Havana" five years later wasn't close to being laid out at this point, but even as early as 1017 Thug, you thought — you hoped — that the right combination of Thug honing his pop instincts and the rest of the world slowly starting to stomach his more unconventional attributes could come to pass.
The (relative) smoothing out of Thug's sound on this tape did come with one pitfall. While his rapping's still breathtaking more often than not, his lyrics aren't at their imaginative peak here. There are verses that stand out — the first on "Why Order," in which he free-associates "I'm a Seahawk in a flying coupe, I'll Seattle you," or the closing moments of "Shooting Star" where he imagines four new definitions for the word "habitat," for example — but those moments of baffling wordplay are a rarity. I'd argue that just as crucial to Thug's success as his pop instincts are his most infamous "WTF" lyrics. These lines, such as "I just bought a Bentley and a bitch came with it," "Horses don't stop, they keep goin'," or "I look good as your dad on a Friday," became memes subject to the type of endless interpretation, ridicule, and hero worship that makes for surefire trending topics.
Bear with me on the sports metaphor, but 1017 Thug turns a quarterback who's a master of unscripted sandlot football into a "system QB." With its high-caliber trap beats, the tape would probably succeed whether it was Gucci, PeeWee, or Future at the helm, and it sometimes feels like Thug has to rein in his more unhinged impulses to conform to that canvas. Plopping a gunslinger into a rigidly structured format can be a great move in that guy's twilight years — look at Matt Stafford and Sean McVay's Super Bowl, Jeezy and DJ Drama's very fun SNOFALL from last year, Aaron Rodgers and Matt LaFleur's brief improvement over the latter Mike McCarthy years, or Roc Marciano's entire second act — but a 21-year-old Young Thug still had way too many wild bootlegs and broken-play heroics in him. Even if he could dink-and-dunk his way to the playoffs over the Teflon Don-era Rick Ross beat of "Tabernacle," it'd be more compelling to watch him break records and throw four picks a game with no oversight.
Thankfully, Thug only really ran the 1017 Brick Squad playbook for one tape, and 1017 Thug, while fantastic and career-making in its own right, feels more like a box checked on the way to Atlanta superstardom than it does the genesis of Young Thug's next decade. Over the ensuing two years, he'd hit pop success with the singles "Stoner" and "Lifestyle," land guest spots on songs by T.I., Tyga, Juicy J, and Rae Sremmurd, drop the fan-favorite Black Portland with Bloody Jay and the era-defining Tha Tour Pt. 1 with Rich Homie Quan, and perhaps most importantly, clear out his 1017 archives with four more tapes that stand as the most scattershot of his career. By the time he emerged on the other side with a 300 Entertainment deal and a stately commercial debut in Barter 6, he'd arrived at a drastically new sound by locking in with newfound producers-of-choice London On Da Track and Wheezy.
Earlier, I called Thug a self-contained metaverse, and perhaps nothing illustrates that better than his diehard fans' inability to settle on one album, or even one era, that's the general-consensus "peak." Zip-file-hoarding Datpiff archivists swear he captured lightning in a bottle on the I Came From Nothing series; shameless millennial aesthetes and hypebeasts live for the Tour Pt. 1/Barter 6 era; Travis Scott fans finally came on board for Slime Season 3 and Jeffery; your average RapCaviar listener considers 2019's So Much Fun to be Year Zero; smarmy contrarians will die on hills for like, the third 1017 Thug tape, the Super Slimey collab with Future, or the On The Rvn EP. It's rare to find an artist with this much material who has fans that will fight to the death about every single unfinished leak.
The multitudes that Thug contains make for an endlessly rewarding superfan experience but have created issues for casual observers since day one. First came the homophobia and IceJJFish comparisons from conservative rap figureheads, which were easy enough to laugh off. Thug may have played coy about his sexuality to drum up controversy, but throughout 1017 Thug and the ICFN tapes he says "no homo" with the frequency of a late-2000s Lil Wayne. He's always clearly been more homophobic than he was ever even queer-adjacent. And those complaints about his pitchy vocals and perceived lack of bars? Nearly everyone walked those back once they heard "Givenchy," "With That," "Future Swag," or any number of possible "come-to-Jesus," rapping-ass-rapper moments in his discography.
Then there were the thinkpieces and profiles between 2014 and 2016. In these, the issue was less a lack of familiarity with Thug than it was a desire to create a narrative or take his outlandish words at face value. There was the Washington Post essay that held him aloft as a "post-verbal" artist, claiming that his "electric gibberish… best reflects the incomprehensibility of right now." There was the Complex profile that attempted a "Frank Sinatra Has A Cold"-style portrait of a largely absent Thug through conjecture and negative space. And lastly, there was the GQ profile that played up his alleged "alien" characteristics, namely, refusing to eat for days on end and gambling to the brink of bankruptcy. All of these, to varying degrees, reacted to Thug's caginess to speak about his personal life by embellishing his enigmatic qualities.
But by far the biggest travesty that interpretation of Young Thug's career has wrought is the RICO case that currently has him and dozens of others locked up awaiting trial. As is the case with seemingly every rapper who's faced major charges — Drakeo The Ruler, Boosie, NBA Youngboy, even all the way back to Snoop Dogg in the early '90s — song lyrics are playing just as big a role in criminal trials as material evidence. (This is the #1 threat to what is arguably our country's most vital artform, and while I won't get into specifics here, I urge everyone to do whatever they can to support the recently proposed RAP [Restoring Artistic Protection] Act that seeks to outlaw this practice.) For a vocalist that's so often difficult to understand that a long-tenured music journalist deemed him "post-verbal," this is especially insane. Half of the 1017 Thug lyrics are still incorrect on Genius! Even his most devoted stans struggle to comprehend what he means when he says "Bill Gates, I'm your stepson" or "Understand me, motherfucker? I'm a habitat." Are we really going to justify life sentences with in-depth literary analysis of often-absurdist art that's never once billed itself as non-fiction, performed by law enforcement officials who hate rap music and all it stands for?
In the words of Young Thug himself, sheesh. With every punchline-turned-admission of guilt, we're losing out on the chance for another bold, revelatory breakout moment like 1017 Thug. Thug refused to meet popular hip-hop, even the stuff made in his neighborhood or by his peers, where it stood. He knew he had the juice and probably guessed that it would initially repel some listeners, but he stuck with it. In the same way that the first J Dilla beat you ever heard sounded wrong or the first James Jamerson bassline that went beyond simple root notes pissed off Quincy Jones, Thug revolutionized aggressively without coddling the listener. Free him.