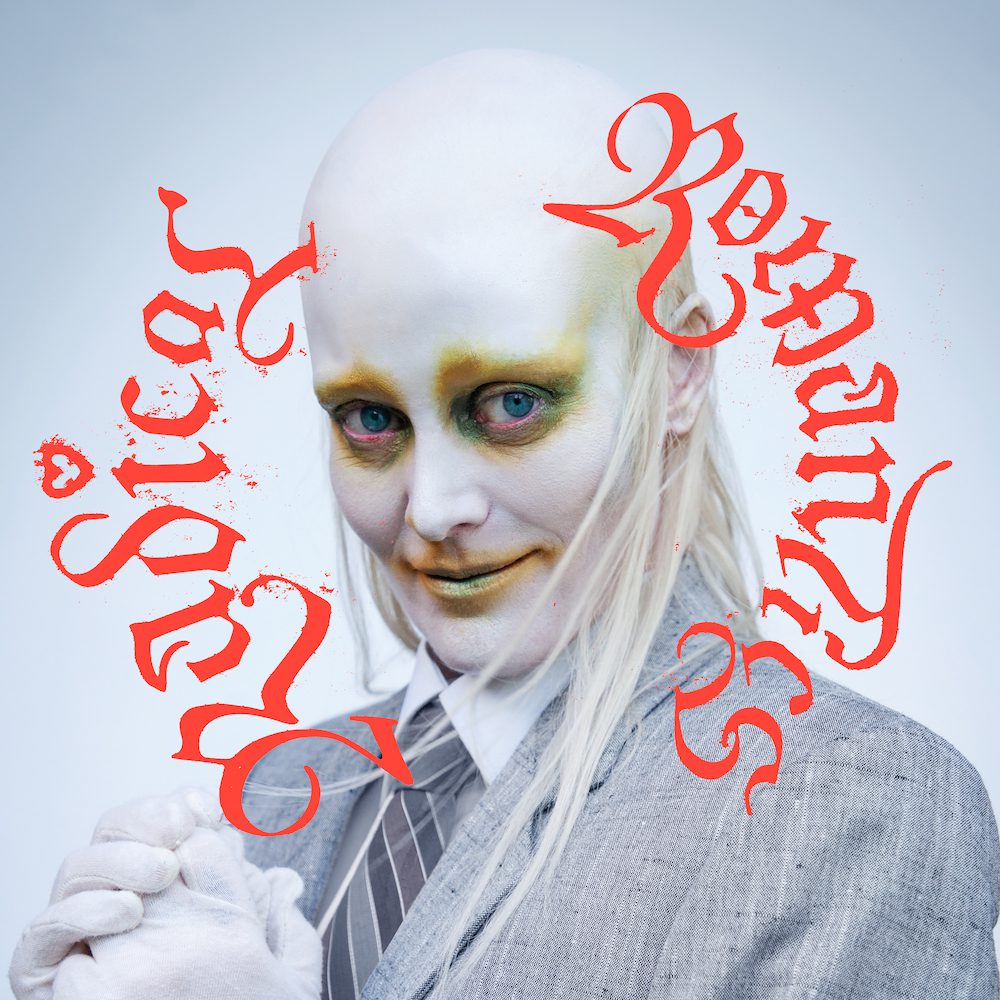 You know Karin Dreijer's still got it when they threaten to hurt a child. "This is for Zacharias, who bullied my kid in high school," they growl on a song off Fever Ray's new album Radical Romantics. "There's no room for you and we know where you live/ One day we might come after you, taking back what's ours/ And then we cut, cut, cut, cut, cut."
It's one of those deliciously subversive moments that Dreijer has been creating for over two decades now, both as one-half of the Knife and on their own. Dreijer's righteous anger is translated into a weapon yielded in the form of a clanging hook, a cheerleader chant about plotting revenge on someone who hurt someone you love. Yeah, fuck that kid up! I love that Dreijer had to be encouraged by a friend to change the actual name of the child in the song — "even though Karin really didn't see it that way," Dreijer chided in the third-person in some press material. I love that they enlisted Trent Reznor and Atticus Ross to produce the track, a posse of adults getting together to enact their own form of law-and-order in the schoolyard. I love that Dreijer has even gotten to the point where they're writing songs about petty domestic dramas, a suburban helicopter parent dragged through the twisted landscape of Fever Ray.
The last time we heard from Dreijer was on 2017's Plunge. Then, they were navigating what it feels like to fall in love — and all the sociological, political, emotional implications of what that entails. On Plunge, love felt like turmoiled ecstasy; that hasn't changed on Radical Romantics but Dreijer also has other things on their mind: getting older, reckoning with their legacy both as an artist and as a human being.
They team up with sibling and old bandmate Olof on the front half of Radical Romantics, a welcome reunion with songs that manage to recapture the devilish gleam of the Knife. "What They Call Us" opens the album with Dreijer weary and soul-searching, feeling down and ostracized. "Did you hear what they call us? Did you hear what they said? My plan was flexible: Don't get stuck anywhere." They psych themselves up to head back into the music industry, setting the record straight: "It's a common misperception/ This is not a band," they sigh. "Ready for a dissection/ Now mommy's gotta work, see the land."
Though Fever Ray is firmly Karin's project and has its own intentions, you could conceivably treat the first four songs of Radical Romantics as a Knife EP, an idea of what they might have been if they had continued on instead of burning everything down with Shaking The Habitual. Karin seems cognizant of the idea that you might do exactly that, too, and they allude to their past in these songs, both in the sounds that they use — a palette instantly familiar to any Knife fan — and the youthful desire that simmers throughout the tracks they made with Olof. "Just a little touch," they goad on the fantastic "Shiver," amid skin-crawling, sensual wiggles. On "New Utensils," Driejer tries out every tool in their arsenal: "lips, fists, a mouthful of words" — "whatever works." "Kandy" closes out the Dreijers' collaborative quartet, a trembling chatter where Karin asks the question: "What if I die with this song inside?"
Given the sporadic release schedule from the Dreijer camp — this is only the third Fever Ray album across 14 years — I could understand how one might be frustrated to hear Dreijer retread a bit on Radical Romantics. The album's first line even acts as an apologia of sorts for returning to the same sonic well: "First, I'd like to say that I'm sorry/ I've done all the tricks that I can." Though Dreijer is messing around in the same sandbox that they have for a long while now, Radical Romantics still feels exciting and urgent. The sounds that the Knife and Dreijer have been working with for twenty years still sound like they're beamed in from the future. So when Dreijer chirps back an old melody lifted from one of the Knife's early singles on "Looking For A Ghost" — Fever Ray's second team-up with the Portuguese producer Nídia following Plunge's "IDK About You" — it sounds like an intentional choice, a way to look back on their career with a nod to one of their past selves. And the song stomps ahead beyond that, into a wishful mangled hook: "Looking for a person with a special kind of smile/ Teeth like razors, fingers like spice." Dreijer manages to so consistently morph those old glories into new delights.
And then there are the ways that Radical Romantics pushes Dreijer in odd, affecting new directions. After a rush of sheer inspired brilliance in the pop bliss of "Carbon Dioxide" — a song so throbbing and giddy that it's worth the price of admission alone — the album descends into a more low-key conclusion, a trio of nakedly emotional tracks. "What if I told you in the whole wide world/ There's no place I'd rather be/ Than with you," they sing on the gutting "North," tweaked along by another contribution of aching guitars from Reznor and Ross. "Tapping Fingers" is an elegiac, murmuring pulse about staying up too late as a way to prolong saying goodbye.
The album closes on "Bottom Of The Ocean," a meditative seven minutes made up of nothing more than Dreijer's echoing ohs and a sloping synth. Originally written as part of the score for a play adaptation of Ingmar Bergman's isolation masterpiece Hour Of The Wolf, it could be boring in someone else's hands but not Dreijer's. Instead, it recalls the scraping intensity of the most difficult tracks on Shaking The Habitual, an everlasting siren song that feels like its exposing all the loneliness at the heart of Fever Ray's music: an odd and beautiful soul searching for some recognition, some connection out there in the vast darkness.
Radical Romantics is out 3/10 via Mute.
Other albums of note out this week:
• Lonnie Holley's Oh Me Oh My
• Miley Cyrus' Endless Summer Vacation
• Sleaford Mods' UK Grim
• Manchester Orchestra's The Valley Of Vision
• Franke Rose's Love As Projector
• Shana Cleveland's Manzanita
• MSPAINT's Post-American
• Shalom's Sublimation
• Dutch Uncles' True Entertainment
• Infinity Crush's sestinas
• Judiciary's Flesh + Blood
• Godcaster's self-titled
• Talib Kweli & Madlib's Liberation 2
• The Blaze's JUNGLE
• Meet Me @ The Altar's Past // Present // Future
• Altin Gün's Aşk
• H. Hawkline's Milk For Flowers
• Collapsing Scenery's
• Story Of The Year's True Entertainment
• Rarelyalways' Work
• Ulrika Spacek's Compact Trauma
• TWICE's Ready To Be
• EBK Young Joc's HotBoiiz: 4L
• Brix Smith's Valley Of The Dolls
• Levellers' Together All The Way
• For The Fallen Dreams' self-titled
• Page McConnell & Trey Anastasio's January
• Death Cab For Cutie's acoustic version of Asphalt Meadows
• Ben Kweller's Sha Sha (Deluxe)
• The Holy Modal Rounders' Indian War Whoop – 55th Anniversary Edition
• Fatima Al Qadiri's Gumar EP
• Double Wish's Light Split Sparkle EP
• Bleary Eyed's Bleary Eyed EP
• Das Koolies' The Condemned EP