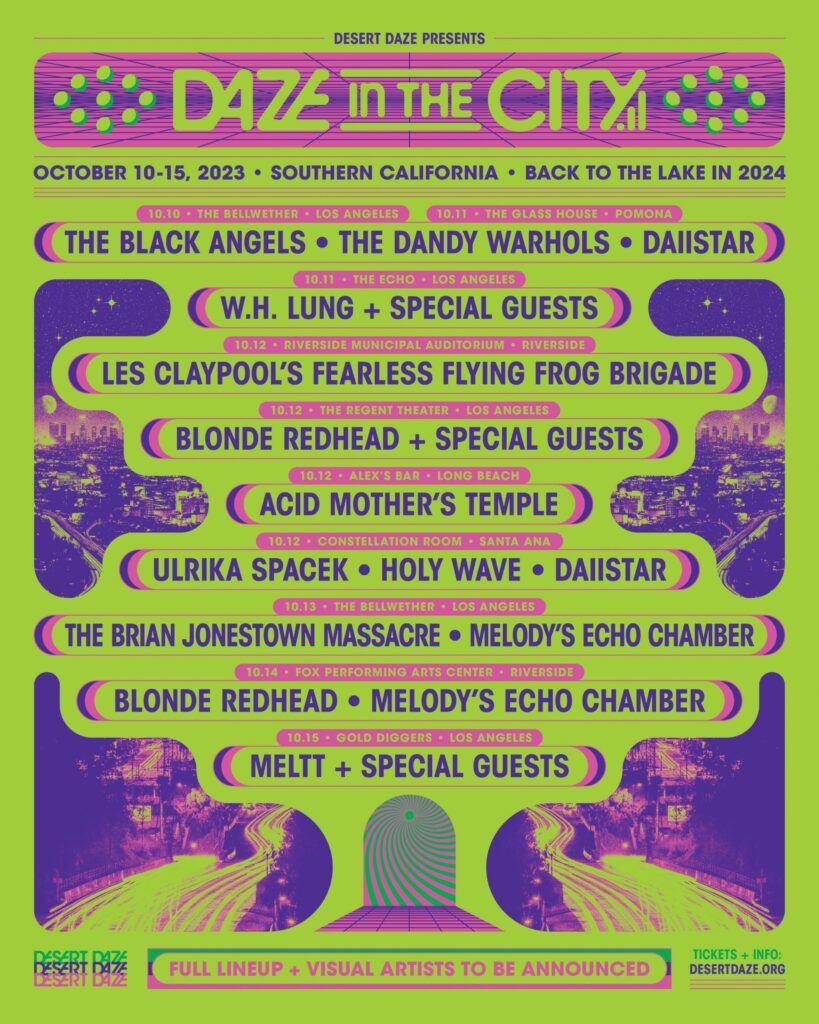 The psych-focused Southern California festival Desert Daze has long been regarded as one of the best live music events going, a sentiment I can affirm after attending myself last year. Unfortunately, there will be no Desert Daze in 2023. The fest just announced that it is taking a year off and will return from Oct. 10-13, 2024.
"After careful thought and consideration, DESERT DAZE organizers have decided to take a year off from the event at Lake Perris and return in 2024, using the extra time to ensure an experience that surpasses expectations for many years to come," reads an official statement.
Desert Daze already sold early bird tickets for the 2023 festival. Those who already purchased tickets can roll over 2023 passes to 2024 or request a refund via See Tickets. Those with further questions are encouraged to email [email protected].
In place of a large-scale festival this year, the Desert Daze team has organized a series of concerts at multiple SoCal venues. Under the name of Daze In The City, it will run from Oct. 10-15 of this year and feature artists including Les Claypool's Frog Brigade, the Brian Jonestown Massacre, Melody's Echo Chamber, the Black Angels, the Dandy Warhols, and Blonde Redhead. On the festival website, they're calling it "a concert odyssey featuring some of our favorite music and visual artists performing at multiple venues across Southern California, in homage to the marathon of the first Desert Daze which ran 11 days long."
DAZE IN THE CITY:
10/10 – Los Angeles, CA @ Bellwether (The Black Angels, The Dandy Warhols, DAIISTAR)
10/11 – Pomona, CA @ Glass House (The Black Angels, The Dandy Warhols, DAIISTAR)
10/11 – Los Angeles, CA @ The Echo (W.H. Lung + Guests)
10/12 – Riverside, CA @ Riverside Municipal (Les Claypool Fearless Flying Frog Brigade)
10/12 – Los Angeles, CA @ Regent (Blonde Redhead)
10/12 – Long Beach, CA @ Alex's Bar (Acid Mother's Temple)
10/12 – Santa Ana, CA @ Constellation Room (Ulrika Spacek, Holy Wave, DAIISTAR)
10/13 – Los Angeles, CA @ Bellwether (The Brian Jonestown Massacre, Melody's Echo Chamber)
10/14 – Riverside, CA @ Fox Riverside (Blonde Redhead, Melody's Echo Chamber)
10/15 – Los Angeles, CA @ Gold Diggers (MELTT + Guests)