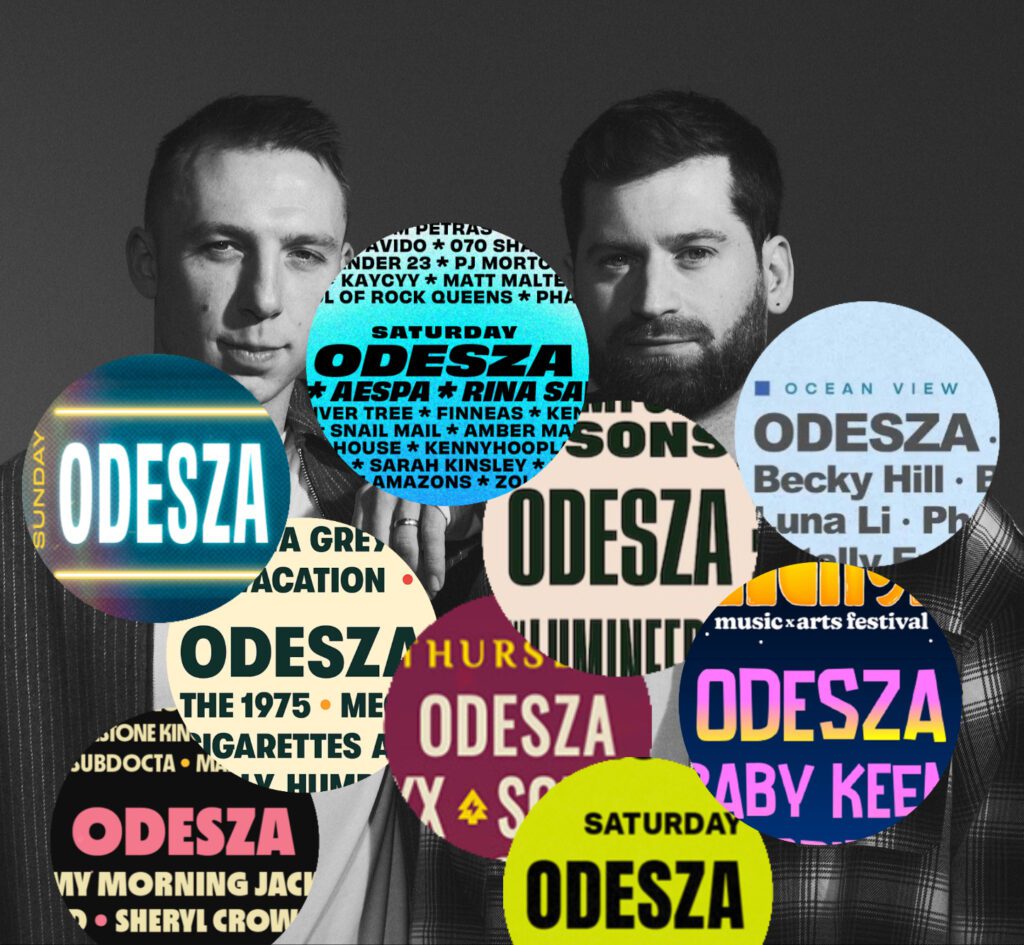 Odesza are big. You know it. I know it. Even your mom might know it, assuming she spends any time perusing festival lineups. It has become one of life's universal truths: Name any random big-tent festival, and there's a solid chance Odesza are headlining it. Seldom have I seen artists include a "Festivals" section as a part of their website's tour itinerary, but Odesza have one. Until reporting this article, I don't think I'd ever met a single Odesza fan, nor had I heard a single Odesza song, and I write about music professionally (on the side, but still). If two random dudes passed by on the street, and you told me convincingly enough that they were Odesza, I'd maybe believe you.
Their relative lack of celebrity is particularly astounding, given pop music's shift away from enigmatic posturing (see: House Of Balloons-era Weeknd, Daft Punk, Sia) and toward intimate specificity (see: the boygenius extended universe). In a TikTokified zeitgeist defined by stan culture and parasocial relationships, Odesza feel like an anomaly. I had never heard the names Harrison Mills and Clayton Knight until I began researching this piece. They don't have any Billboard Hot 100 hits, and only one of their albums cracked the Billboard 200 top 10 (six years ago), but they're headlining Lollapalooza, Bonnaroo, Austin City Limits, Life Is Beautiful, Outside Lands, Governors Ball, and Electric Forest. A recent commenter on this very website requested a deep dive explaining this phenomenon, and I'm up for the lofty task.
As Turnstile famously articulated, you really gotta see it live to get it. Like Odesza, hardcore's biggest crossover stars skyrocketed to the upper echelons of festival posters — including a headlining slot at this year's Riot Fest — without much chart success to speak of, but they inhabit a starkly different musical milieu. Regardless, Odesza's live show is a crucial part of becoming a devoted fan, as their fans consistently tell me. Uriah Beauchamp, a moderator for the electronic duo's subreddit, remembers seeing them at the Larimer Lounge, a venue with a capacity of 250 people, in Denver. A friend invited Beauchamp, who had never heard of Odesza at the time.
"I came to that show not really knowing what to expect and left totally sweaty and obsessed after an amazing set," he reminisces. The next time Odesza did a headlining show in the Mile High City, it was at the Ogden Theatre, a 1,600-cap room, marking a sizable level-up. This is when Beauchamp noticed "the first elements of the theatrical live show came into place, including the back-to-back drum pad rack and icosahedron arrangement" — a reference to Odesza's geometric logo. On their next trip through the Denver area, they'd headline Red Rocks with a full-on drum line and horn section in tow. Admittedly, as someone who played in my high school drumline and nearly went to college for percussion performance, I'm a sucker for this kind of shit.
Just as Beauchamp saw them in a relatively tiny room, Matt Irwin became hooked after catching a Valentine's Day set at Missoula's Stage 112 in 2015. "I hadn't listened to much EDM before, but, since that show, they have been my favorite artist hands down," Irwin says. After moving to Denver to be closer to his now-wife and fellow Odesza devotee, Ashley, they have gone to Red Rocks any time Odesza perform there. They're such diehards that "Higher Ground," from 2017's A Moment Apart, was their wedding song, commemorated via an icosahedron tattoo on Ashley's forearm.
"I've shared Odesza with friends, and most like what they hear, but to truly understand them, you have to see it live," Irwin explains. "I brought my best friend and his wife to the last two back-to-back shows at Fiddler's Green [Amphitheatre] in Denver. They are now excited to travel with us to see them any time we can."
Eric Martin, a self-described daily Stereogum reader and Odesza loyalist, echoes the live show's import. "I caught them last fall after wanting to see them for years," Martin says. "I took my partner, who isn't huge on dance music or DJs but goes to see a lot of them with me. She said Odesza was the best EDM show she had been to." Like Beauchamp, Martin mentions details like the drum line and mesmerizing visuals as a salient component of the live Odesza experience: "[It] made a weeknight show feel like a high-production, festival-headlining set."
After speaking with various Odesza fans, I began seeing subtle parallels between this community and the jam-band lifers. These people travel to see them for the umpteenth time, professing a transcendent event for the uninitiated. It feels poetic that they're headlining Bonnaroo, a festival once centered on jam bands, this June.
Of course, Odesza and Widespread Panic are strikingly different artists with disparate target demographics, but it speaks volumes that the live show carries as much weight, if not more, for the pro forma Odesza experience. They may not be marathoning four-hour sets, featuring a different setlist every night with bootlegged jams that fans cherish like precious jewelry. But that light show sure looks as expensive and shiny as precious jewelry, even when you're watching it on YouTube in all its compressed humility. On July 7, the experience is coming to movie theaters in the form of a full-fledged concert film, ODESZA: The Last Goodbye Cinematic Experience. It's a production large enough to match Odesza's font size on festival posters, so it only makes sense that it's being adapted for the big screen.
However, it's ultimately the music itself that matters the most. Odesza's electronic tunes feel like a midway point between late-2000s indie-pop like MGMT and Passion Pit and bro-adjacent EDM like Skrillex and Flume. It's not abrasive or challenging like Aphex Twin, nor is it as anodyne and tasteless as the Chainsmokers. Their work occupies a liminal space that appeals to a wide swath of people. They have songs with the ambient savant and experimental vocalist Julianna Barwick and the nostalgic blues/soul revivalist Leon Bridges. That in-betweenness has won them both a hardcore following and 6.8 million monthly Spotify listeners. This is a beneficial paradox; their unifying draw is an integral part of what makes them such an appealing act for festival bookers.
Stephen Greene, the Vice President of Booking at AC Entertainment, the company behind Bonnaroo, cites Odesza's "crossover" lure as a central reason for booking them. It's also his argument for why they've permeated music festivals writ large. "They're not strictly an electronic act," Greene says. He believes Odesza is lucrative for festivals that don't focus exclusively on one genre: "like Bonnaroo, Lollapalooza, or ACL: these big shows that sell tickets to a lot of different people. Because you're not just an electronic, hip-hop, or rock festival, having acts that speak to all the different music fans out there is important."
Eric Barleen makes that same point. Barleen is the Vice President of Concerts at Another Planet Entertainment, which is responsible for booking Outside Lands. He describes their music as "open and inviting," adjectives that are conducive for a spacious field like San Francisco's Golden Gate Park, where the festival is held. "Outside Lands, being as multi-genre as it is, pulls everybody," Barleen says. "At the center is a very open fan base that listens to everything from hip-hop to rock to dance music."
To put it another way, it's less about genre as a categorical descriptor and more so about the ever-nebulous "vibe." Few artists encapsulate "vibes" better than Odesza. Their ambiguous je ne sais quoi has yielded them a large fandom that's able to shape Odesza's raw material into a soundtrack for anything like a late-night drive to a relaxing day at the beach. It's music well-suited for passive consumption, the kind of art that augments an experience rather than defines it. Perhaps that's why some fans became infatuated with Odesza after hearing them as background music in YouTube videos. For Martin, it was joining his college's ski and snowboarding club that led to his discovery of the duo. "Odesza's early stuff was the soundtrack to roughly 50% of all extreme-sport YouTube videos at the time," he says. "Their light, high-velocity sound was perfect for both carving the slopes and the parties that surrounded the club." Also, it was "perfect for bridging the gap of EDM with non-EDM fans in that era."
Sean Levin, another fan I spoke with, found out about them when a YouTuber he watched used Odesza as bed music. Specifically, it was Ben Brown, a travel vlogger with over half a million subscribers. "I was like, 'What is this?' and a lot of people were commenting 'Odesza,'" Levin recalls. "And I was like, dang, I gotta go check their music out more. Pretty much since then, I found their albums and became a big fan." This occurred in 2016 during his senior year of high school. Growing up in Orange County, California, their music complemented the coastal, idyllic scenery around him. "Their music matches up a lot with being in nature and in movement," he says.
Like Martin, Levin cites Odesza's intersectional approach as a major draw that crosses genre boundaries, reaching many different kinds of listeners in the process. "They're not full-on electronic dance music like some others are, like dubstep or house," he says. But he's quick to point out the "chill vibes" underlying the duo's work. In this framework, Will Ramsey, a fan who has been invested in Odesza since 2018, hits the nail on the head with his cogent analysis: "They're like a gateway drug into electronic music." After college, Ramsey listened to a lot of Passion Pit and Grouplove, alt-radio mainstays that use both rock and electronic elements in their music. Once he heard Odesza, though, he went down the proverbial electronic rabbit hole, and now it's what he spends most of his time listening to, particularly tropical house. "I do think they propelled me into that world," he muses.
Ramsey has also met people in the Odesza fan community who are now among his closest friends. Some live in New York; others are based in San Diego. It's the connections with other people that most deeply resonate with him. At the last show of their 2019 tour, he was moved to tears, and he rarely cries at all. Yes, he loved the music and the high-budget production, but it dawned on him that, because of this fan base, Ramsey has forged tight-knit bonds and traveled to so many cities. He's found a real sense of camaraderie, and Odesza has been the soundtrack to many of those formative experiences. "They've had such an impact on my life, not just with their music, but with everything else," he says.
I've never been an Odesza fan myself, but talking to people who truly adore them has been enlightening. It's a reminder that, despite my initial suspicions that ardent Odesza fans didn't really exist, there is a whole community of people whose lives have been significantly affected by these two dudes from Washington state. I've spent time listening to their essential tracks and full-length albums; it's not my thing per se, but it sure is for many, many others. I remember attending Austin City Limits in 2018, and Odesza was one of its headliners, slated on the festival poster sandwiched between Travis Scott and the National. After walking away from Arctic Monkeys' set that night, my now-wife and I caught a glimpse of Odesza performing as we walked past. "Looks pretty neat," I thought to myself as lasers blasted from the stage into the cosmos. We kept walking back to our hotel, but others might have waded into that immense crowd, their lives forever changed.