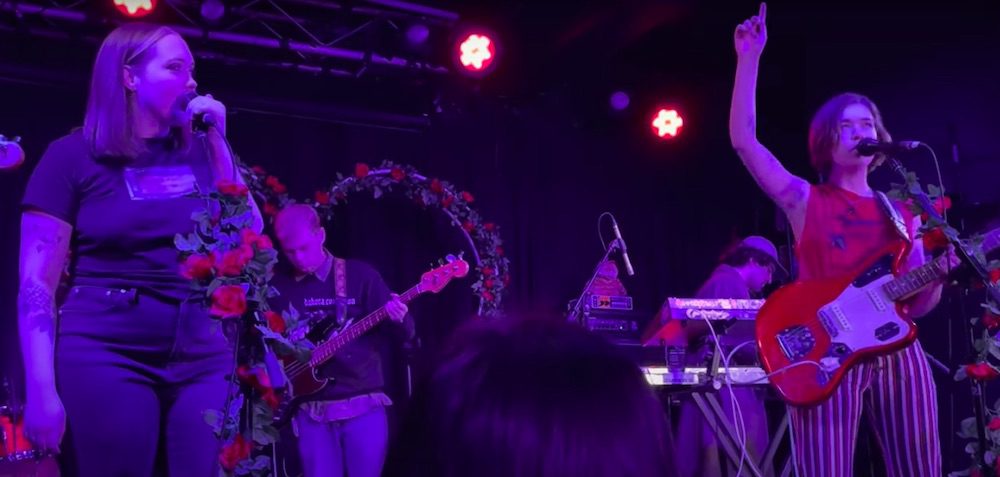 Last year, Snail Mail's Lindsey Jordan announced something special for her Baltimore hometown. At the event dubbed Valentine Fest in honor of Snail Mail's 2021 sophomore album Valentine, Jordan and her band would headline five nights of shows at the Ottobar, one of the best indie venues in the world. (I met my wife there 20 years ago, so I will personally take credit for romance being in the air in that room.)
Snail Mail kept the rest of the lineup secret until a few days ago, when the show was already beyond sold out, and it's full of her indie big-dog peers: Soccer Mommy, Mac DeMarco, Waxahatchee, Mannequin Pussy. The fest is now underway, and cool things are happening. The first night went down on Saturday, and Snail Mail reportedly shared the bill with Soccer Mommy, Feeble Little Horse, and Animal Collective member Geologist. During their headlining set, Snail Mail covered Ride's 1990 shoegaze classic "Vapour Trail." Here's a fan-made video:
During the encores, Snail Mail played their songs "Stick" and "Pristine," and then Soccer Mommy's Sophie Allison joined the band onstage for a cover of Avril Lavigne's 2002 power ballad "I'm With You." (Jordan helpfully clarified that the cover was "not a joke.") They seemed like they were having a great time up there. Here's a fan-made cover of the full encore; shout out to the uploader who thought "I'm With You" was a new song.
Last night, the other acts on the bill were Jessica Lea Mayfield and Truth Cult. Snail Mail ran back her "Vapour Trail" cover, and they also did Courtney Love's "Second Most Beautiful Girl In The World" and Superdrag's "Feeling Like I Do," but they've done both of those songs before.