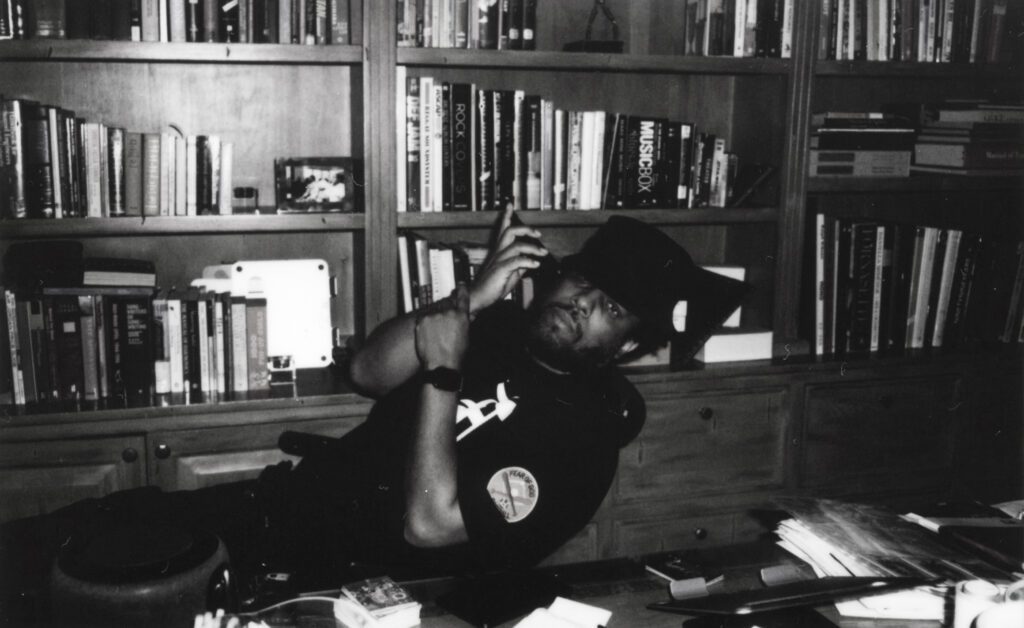 Dion "No I.D." Wilson has made headline-grabbing music with some of the most famous rappers in the world, but you might not know who he is, and he's fine with that. "I've always shunned a lot of things in my life as far as the limelight," he says. As a Chicago hip-hop institution, he's worked with stars of every generation for three decades, from producing early albums by his lifelong friend Common, to mentoring a young Kanye West, to prepping a collaborative project with Saba due out in 2024.
Despite his deliberately low profile and his love of old-fashioned sample-driven beats, No I.D. has become quietly ubiquitous, producing hit singles for Jay-Z, Drake, G-Unit, Bow Wow, and Plies. He's won a Grammy and racked up 10 nominations, including Producer Of The Year, Non-Classical in 2018, and is again courting Grammy buzz this year for his work on Killer Mike's Michael. After joining Kanye West's dream team of producers on albums like 808s & Heartbreak and My Beautiful Dark Twisted Fantasy, No I.D. was appointed President of West's G.O.O.D. Music label, and later became Executive Vice President at Def Jam and then Capitol Music Group. His label ARTium Recordings helped launch the careers of Jhene Aiko, Vince Staples, and Snoh Aalegra. And No I.D. occasionally makes his own music, including a cult classic solo album, and his supergroup Cocaine 80s.
Last week, No I.D. connected with me via Zoom from his home in Los Angeles to talk about some of the records he's had a hand in over the years and why he's never sought out the kind of beefs and controversies that rappers like Common, Kendrick Lamar, and Pusha T have stirred up with his beats.
Killer Mike – Michael (2023)
You worked a little on Killer Mike's early solo albums before Run The Jewels, but this year you produced six tracks on his first solo album in over a decade. How did you wind up becoming a bigger part of this album than his previous work?
NO I.D.: He's been my friend for, I dunno, maybe 20 years. The earlier work we did was kinda like, "Hey, I have a beat, do you want to use it?" but we never really put a concerted effort into the work. I would always tell him, "Let me know when you wanna do it," because he hadn't really done [solo work] a lot, so I just kinda waited. And he finally hit me and said "I think I got somethin'."
It feels like there's a consistent sound to Michael, especially your tracks, but the whole album has this contemplative sample-driven sound that matches his lyrics.
NO I.D.: That was an important thing for us, and it took a little thinking about how to use some of those elements, but keep it true to the southern Dungeon Family lineage. So it was taking those things and really using soulful bass players and organs by different people who knew how to dial into his Southern roots, so to speak.
It seems like you've always used a lot of live instrumentation from session players, all the way back to the Common albums.
NO I.D.: I'm a huge student of this music, so the more I learn, the more I'm always talking to older engineers, because I love the sound of the things I sample. And I just became addicted to trying to create those type of sounds, to the point I have an all-analog studio myself, just to create in kind of like a time warp. And then I just started to implement them into the sample process. Sometimes I don't even use samples anymore, so it's definitely a lost art, I would say, of making music that sounds like those older records.
Common – "I Used To Love H.E.R." (1994)
You produced Common's first album under the name Immenslope, and then on the second album, you had become No I.D. Where did the different names come from?
NO I.D.: Immenslope was like a joke that turned into a name. I would always say, "Y'know, a name doesn't matter. If you're good, people just act like the name is good. Watch this, I'ma just call myself Immenslope." People are like "What does it mean?" An immense slope. If you knew me from my early neighborhood days, my nickname was Slope to those people.
My production partner, whose name was Twilight Tone, one day we were on tour, and he said, "You should be No I.D." which was my name backwards. And his name was Tony, and I was like, "Well you should be Y Not." And we both changed our names from that point on. I thought, this was the name that I'd been waiting on.
Were you guys completely surprised when Ice Cube called Common out over "I Used To Love H.E.R." on Mack 10's "Westside Slaughterhouse"?
NO I.D.: That definitely came out of nowhere. But I can see where he felt a way. It was fair, it was his perspective. We were just still at a point where we were trying to get people to say we were good. When it happened, and [Common] was like "Yeah, I'm gonna make a diss record," I asked him "Hey, is it real or is it not real, the issue?" When I gauged it wasn't real, that was probably the first time I didn't do a beat for him when he asked me to. I decided I didn't wanna be part of that if it's not real.
Well, you didn't produce Common's diss "The Bitch In Yoo," but your song "The Real Weight" was on the B-side of the single.
NO I.D.: That was my song, and Relativity just put out a 12″ promoting the songs, and I wasn't against that. I got my own set of morals, how I live.
Big Sean – "Control" (Feat. Kendrick Lamar & Jay Electronica) (2013)
This is another song you produced that wasn't really a diss record, but it kind of provoked emotions from other artists and led to diss records.
NO I.D.: It did.
And you also produced Jay-Z's "D.O.A. (Death Of Auto-Tune,)" T-Pain was not happy about that one. Do you feel like you're being dragged into beef by the artists you work with, or do you feel like as the producer, you're not really involved in those conflicts?
NO I.D.: Y'know, this is what it is: I'm all with the artistic expression of a genuine point. I feel like "Death Of Auto-Tune" was a genuine point, I feel like Kendrick's perspective on "Control" was a genuine point. So that's where my line is drawn. And yeah, people do drag me into those things, but I do the music part, I'm not writin' the lyrics. The spirit back with Common was — y'know, it wasn't really until maybe Nas' Illmatic that were a lot of different producers working on albums. It was almost like we were a group, so it was a little deeper. It was like "You say it, I said it." But if Jay says it or Kendrick says it, I didn't say it.
Were you there for the recording of all the verses on "Control," or was it patched together?
NO I.D.: That was patched together, definitely. [Big Sean] was finishing his sophomore album, and I just was like, "Hey, man, you need something a little more edgy," and I had that beat. And he made a verse and he goes, "I'ma send it to Jay Elec," and I was like, "Yeah, that's our guy, but I think you need something edgy." And then he was like, "I'ma send it to Kendrick." Then that verse came back, and then I said, "Well, I think you put your foot in this song." He was like "Hey, maybe I shouldn't use it." And if you notice it's not on an album.
A lot of reports have implied it wasn't on the album because of a sample clearance issue, was the Quilapayún sample the reason?
NO I.D.: No, 'cause actually, that's all live instrumentation, it was definitely a replay. But I'm sure that's a good reason to say. It was a big issue at the company, too, it was a lot of stuff going on.
It's been 10 years since that song, and we're still getting reverberations from it. A Kendrick verse recently leaked where he's dissing Big Sean. Did you always think the beat was always special, or did that feeling come when the Kendrick verse came in?
NO I.D.: I was with J. Cole last weekend. We were talking, because I got a running joke with him, which is, "If I do sessions with you, I'm gonna make amazing music for other people that you won't use." And the first iteration of that beat was made for J. Cole. And then I made another version for Jay, and then I made another version for Sean. So sometimes when I think an idea is special, I will work on it for a long time and make many versions of it. And sometimes people will be like, "Why you didn't give me that?" And I'll be like, "I did."
And J. Cole was one of the people Kendrick mentioned on "Control," and he eventually reacted to it on a Justin Timberlake song, so it's interesting that he heard that beat before anybody else.
NO I.D.: Oh yeah, he did.
Co-Producing With Jermaine Dupri (2005-2008)
You co-produced a lot of songs with Jermaine Dupri in the mid-2000s. How did that come about?
NO I.D.: As time went by and me and Common worked less, going from being a childhood friend and kind of like a group member, to him movin' on, I had a lot of decisions to make because as a producer, I really had never considered myself as that being my profession. I always made beats for me to rap to, and he would always just take 'em from me. So I had a big decision to make, whether I wanted to be a producer.
Part of my assessment of the music game is, I always studied it, and I always saw that every 10 years, even if you're great, you gotta kinda reinvigorate your approach. So I decided to go and work under Jermaine. I said, "Hey, be humble, go experience another part of the country." The South was different. He was really successful. I think I felt like I had things I could help him with, and he had things he could help me with. He really wasn't, like, a full-on sample-based producer, but he would make really big records. I just called him one day and was like, "Hey man, I wanna come work under you. I think it could be good for both of us."
Had you crossed paths with him before that?
NO I.D.: Absolutely. We knew each other, it wasn't like I hit a stranger up.
You are credited on a number of songs with Jermaine, but one song that people speculate you worked on that you're not credited on is Usher's "My Boo." Did you work on that?
NO I.D.: I'll say this, I didn't do that. There's other records I did do that I'm not credited on. But nah, that's a big myth. People put it on my Wikipedia, I take it down, they put it up, everybody just says I did it. It's another younger guy that I'm pretty sure had a lot to do with that, I'm not sure.
Co-Producing With Kanye West (2008-2013)
I know that talking about Kanye West in 2023 is a big can of worms, we couldn't possibly discuss everything. But you've known him a long time, and he called you his mentor on "Big Brother." You didn't work on Kanye's first three albums, and then there was a period were you worked heavily on 808s & Heartbreak, My Beautiful Dark Twisted Fantasy, and Yeezus, and you became President of G.O.O.D. Music and worked on a lot of the label's releases. So how did you go from that early history to then finally collaborating often?
NO I.D.: The context is, his mother and my mother knew each other. He was very young, so it was more like, let me help my mother's friend. Sometimes when people do the same thing, you just share information more than work with each other. It wasn't until his mother passed [in 2007], and people would tell me to come be around more, that that led to us really working on things. I guess it's like a mentor, because I was more just helping a younger guy than trying to build a business relationship with him.
Hearing how Kanye produces and how it sounds like he's influenced by what you've been doing since the early '90s, I think people get the impression that he probably learned some technical things from you in terms of chopping samples.
NO I.D.: Yeah, and I already had a career. He has a stellar career, I'm happy that he was able to take things to the level he took it, but I've always just been happy with being me and doing what I'm doing, the way I'm doing it, the pace I do it. So me and him never really had that relationship except in times where I think life brings you up and down, and sometimes when you're down, you need help. And I helped. And then when he didn't need help, I didn't help, I just kinda moved on, because he has a different life than me. It's just a whole different path. And y'know, I'm not really an extrovert like that.
A lot of Kanye's songs have multiple co-producers, so we see your name in the liner notes, but we never know who might have been the driving force of a track, or who was just adding to a song and helping to finish it.
NO I.D.: Yeah, I mean, being honest, it was always an awkward process, because I don't use a lot of co-producers. So it got to a point where I said, "Hey, man, here's an idea, do whatever, I don't care." There's tons of stuff that started with me, and I intentionally didn't finish, and then there's tons of things that needed fixing.
You really started working with him heavily on 808s & Heartbreak, which was kind of a different sound, for Kanye and for you. What was that like?
NO I.D.: He asked me to come to Hawaii, and I ended up staying there for two and a half years. When you're in Hawaii, there's nothing else to do, so you collaborate more. I think that was just one specific time period where a ton of amazing records [happened]. It was me, Jeff Bhasker, [Plain] Pat, [Kanye], it was an alchemy that happened that probably won't ever happen again.
And then you worked with other G.O.O.D. Music artists like Kid Cudi and Pusha T, and it seems like you were a big part of Big Sean going from being on the bench at the label to becoming one of G.O.O.D.'s biggest stars.
NO I.D.: Well, that was because I accepted the role to be the President of G.O.O.D. Music. I don't like to fail, so I had to do something that won. A lot of that was just circumstantial, I saw [Big Sean] sitting there, I said "Hey, c'mon, make this record. If [Kanye] likes the records, he'll jump in, if he doesn't he won't." The truth is, if you wanna be the best, you need a producer, not beats from producers. That within itself, it's an antiquated concept, because nowadays if a person puts a snare on it, they're a producer. So there's tons of things I work on, I'll just be like, "I don't need no credit, whatever," I want to make the record better.
Jay-Z – 4:44 (2017)
You were part of those big teams of producers that worked on Jay-Z albums like The Blueprint 2, American Gangster, The Blueprint 3, and Magna Carta Holy Grail, and he had never made an entire album with one producer. And then 4:44 seemed to come out of nowhere, and pretty much that entire album is just you and him.
NO I.D.: Yeah.
Did he tell you he was going to make a whole album with you, did you have to talk him into the idea?
NO I.D.: Well, first of all, we really developed a friendship. Many of those years I've known him, I wouldn't call us friends where it's like, "Hey, come over to the house, how's the family?" So it really started with, he would always see me and say, "Where's my beats?" and I'd go "Man, I'm workin' on getting better." And I truthfully, honestly, was trying to expand my understanding of record-making. And one day I called him, and I said "I got it." So I had a concept of what I wanted to do sonically, which was kind of like jazz improvisation via sampling, meaning no straight-up four-bar loops, just an abstract base. And I knew I wanted to try to push him to say things he had not said. So I went in with a full-on intention, and it just led to conversations. And at the rate I was making music, I don't even think we intended to make an album until it was, like, something's there.
Not even really many people at [his] company knew we were doing it. So it was literally just us having real conversations, mainly me, him and [engineer Young Guru] and Emory [Jones, longtime friend of Jay-Z], talking about his life. And me being able to go "Here's a piece of music for that." By the time it was an album, people started givin' him beats, but then all their ideas just sounded like they didn't fit. I definitely was tellin' him, we shouldn't try and make singles. I felt like, at that point in his career, we know he knows how to make singles, I've been a part of making singles with him, it's nothin' to prove there. It's really, I wanted to see him give us Shawn Carter on the record before he says "I'm not doing music anymore."
Your beat for "The Story Of O.J." was used in Pusha T's Drake diss "The Story of Adidon," so once again, you're the guy who's not interested in rap beef who's become involved in some of the most famous beefs of all time.
NO I.D.: And to be honest, I told [Pusha T], don't do it, and he did it anyway. I told his manager, Steven Victor, he called me about it. And I was like no, that's not even the spirit of the song, bro, why would you pick that one? That wasn't lack of love for him and what he was doing and his art. It was just, again, there's times I don't wanna be involved in certain things, because it's not me.
No I.D. – Accept Your Own And Be Yourself (The Black Album) (1997)
You've only made one solo album as a rapper, and it was already out of print by the time I'd heard about it about 10 years later, and I found a used copy. I'm always recommending this album to people, but of course it never made it to streaming services. How did the album come about?
NO I.D.: When we were doing the early Common stuff, I asked the A&R at Relativity, "What are y'all looking for?" He described it for me, I went and did a demo in a couple days, I gave it to him, he gave me a record deal. And things took off with Common and I would tour with him, so I just really never got to makin' a record. And then at some point, they're like "Hey, y'know, you owe us a record."
Were you DJing for Common or were you on the mic as a hypeman?
NO I.D.: I would DJ sometimes. A lot of times in the early days. I would bring the drum machines onstage and actually play the beats live. Actually, I'm thinking about bringing that back on this Saba project we're doing. I think once music got really commercial and it was, like, it wasn't like just Large Professor and Pete Rock and DJ Premier, then it became like Puff Daddy, I was like, "Yeah, you know what? That's not me." And I think somebody at the company was like "Yo, we need something like that," and I was like, oh yeah, I'm done.
I suppose it was bad timing to make that kind of album in 1997, and kind of an unfortunate coincidence that your single "Sky's The Limit" had the same sample as Biggie's "Sky's The Limit."
NO I.D.: I mean, when you are an artist at your heart, you just wanna make a piece of art, and I always at a certain point said, "I just wanna get this out of my system." And it's bad timing for the business, but it's not bad timing for what I meant. It fulfilled that itch. You don't have to go through life saying, "What if I woulda?" And y'know, I don't even have any interest in being an artist once I really saw what it was. But I'm an artist at heart. I still write for people and take no credit sometimes. After being around some of the best rappers of all time, you even grow more. So I know if I wanted to, I could rap right now, but for what, y'know?
Have you and Jay-Z ever talked about how you made a record called The Black Album before he did?
NO I.D.: I don't think I ever said that to him.
That's even the album where he said he wanted to rhyme like Common Sense.
NO I.D.: If we had that conversation now, I'd be like, "Nah, I'ma let you live, you got that."
Logic – "America" (Feat. Black Thought, Chuck D, Big Lenbo, & No I.D.) (2017)
This is one of the only times you've done vocals on a record in the last 20 years, and you got to rap alongside a couple of icons of conscious hip-hop. So how did that come about?
NO I.D.: He just literally called me out of the blue like, "Yo, it would be great if you just rap on this song." And I was like, "C'mon, man." He was very persistent about it. And again, it's not like I'm afraid. So one day, I saw him, and he was like, "Do it right now," and I just did it.
Cocaine 80s (2011-2014)
So about 10 years ago you released several EPs with Cocaine 80s, which was a collective of behind-the-scenes songwriters and producers like yourself, James Fauntleroy, and Makeba Riddick, and Common and Jhene Aiko were almost members. Was this planned out as a supergroup? Were these just people who'd made music together and created an outlet to put it out?
NO I.D.: Me and James [Fauntleroy] and Steve [Wyreman], that's the guitar player, we were like the main people. What it really was is we were doing sessions and we were making songs. And I would tell James, "Man, let's just make a hit." He'd be like, "No, we're gonna do what we love, and music is art and we don't need to change it for the business." And I'd be like, "Yeah, I'm with that, cool. But I don't know that these artists are coming to us for that art, their company just wants hits." But I would never stop, and to be super honest, he started getting a lot of recognition. And I said, "Hey, man, this is an opportunity, while people are saying your name, for you to get some music out. Let's just make it a group."
I had been holding that Cocaine 80s name as a brand in mind, I sometimes make up names and just hold 'em because I think they're good names. We only put it on Twitter, and it just caught on a life of its own. I think even when we [announced] the first group members, we put everybody, everybody that did anything, which y'know, at the time I had just launched my label ARTium. So Cocaine 80s was on ARTium, Jhene was on ARTium, Common was on ARTium. So it was quite easy to do it, and we were just doin' it to show, "Hey, this is what we like. We don't need money for it." And y'know, funny enough, I'm gonna put all those records out soon.
Are you going to officially release the old EPs that never went on streaming services, or is it new music?
NO I.D.: A few new things, and some touched up old ones.
Vince Staples – Summertime '06 (2015)
So as you mentioned, after you moved on from G.O.O.D. Music, you accepted an executive position at Def Jam, and you started your own label ARTium and released several artists through Def Jam.
NO I.D.: I came in as Executive Vice President of A&R, then I became head of A&R and Executive Vice President of the company. And that was for, I don't know, four or five years.
Did you just click with Vince Staples as one of the label's new artists, and wanted to work with him not just as an executive but as a producer?
NO I.D.: Joie Manda was the President [of Def Jam] at the time, and he came to me and said, "I think I got something for you." And I met [Vince], and I really loved his personality. I was like, "Aw, he's like a star." And he just really acted like he didn't care. The first meetings, he wouldn't even wanna look you in the eye, just, "Yeah, whatever."
Again, I love perspective, and I love artistic individuality. The funny thing about the style of that record was, up to that point I feel like he had only rapped to really slow Odd Future beats. And I started making these drum beats and saying, "Rap to this, it's a different tempo." I was just experimenting with sound per usual, and they sounded real industrial. And after a while, it just was a sound, and I'd be like, "I'ma finish the beat," he'd be like "Nah, it's done." It's funny because certain people I knew would be like, "It's not soulful enough," and I was like, "Yeah, exactly." Sometimes it shouldn't be. That's a slept-on piece right there.
Def Jam had been this giant label for so long that it seemed like new artists couldn't get an album out unless they already had a hit single or a huge mixtape. So it felt very refreshing when you helped someone like Vince Staples develop a unique sound and not chase radio singles, but still release albums on Def Jam and build his career up to where it is today.
NO I.D.: A lot of things came from that era, we signed Alessia Cara, we signed Lil Durk, we signed Jhene. When they gave me the controls, I was like, yeah, we're gonna develop artists, we're gonna put all the music out, and we're gonna see who's what. And some companies wait around trying to make a hit and this and that.
Beyonce – "Church Girl" (2022)
You had worked with Jay-Z a lot by this point, so it seems fair to assume that you wound up working on Beyonce's last album through your association with Jay.
NO I.D.: Yeah, it was literally, I was at his house one day, and I had some equipment with me, and I just started making a beat. And he was rapping to it, it was for him. And he just put it in the computer, I never thought about it again, I literally forgot about it. And then one day, I just get a call. When you get 2-3 calls from people in a row, you know it's something. "Hey, do you have this idea? Beyonce got somethin' to it." And Jay jokingly tells me, "Man, she stole my beat. She was like, 'Remember that idea in the computer that you didn't finish?'" And I went to see her, we talked about the record, we listened to her album.
Most of the Renaissance album is centered on house music, so "Church Girl" really stands out as one of the only songs that's not in that style at all.
NO I.D.: You know the funny thing was, it was like three years in a row I DJed at the 'Gold Party' that Jay-Z has during the Oscars, and all I play is house music. And me and Jay have these little battles, like backstage whenever there's an event, where we pull out our phones and we DJ and we usually compete, but I'm normally playing house music. So I felt like it kinda helped a group of people go, "Yo, this is good." I'm not trying to take credit for it, but I'm just sayin'. So when she was doing a house album, I was like, "Aw man, I wanna do some house," and she goes, "Nah, we got this 'Church Girl' record." I was a house DJ before I did hip-hop. Actually, the first records I did were house, at like 13 years old.
People on Twitter like to obsessively rank the songs on Renaissance, and "Church Girl" seems like the most debated song, Beyonce fans either think it's the worst song on the album or one of the best.
NO I.D.: Hey, it's art, it's there. Argue, say whatever you want, think what you want. I know people that don't like it, I know people that love it and swear by it. Usually when music is divisive that means it's something new. To each their own, some people like raspberry ice cream too.
John Mayer – "New Light" (2018)
John Mayer had collaborated with some hip-hop artists over the years, but this seemed like the first time he had a producer like you on one of his own records.
NO I.D.: One of my business partners works with John. And he came to me one day and was like, "Hey, we gotta get you and John in, y'all should do an album." I'd done all kinds of things, some commercial, some not, and I always learn a lot, it's a fun experience. We went in and we start doing sessions. And it was funny, we got to about idea number 17 and I go, "Hey John, you know, it's a couple good ones in here. There's at least one right here that's like a huge record, if not two." So I got him to really finish it.
So you guys worked on other things and he just didn't like them.
"Didn't like" is a strong word. I just think, he's an artist and he probably has a different process than me. And y'know, I don't carry the weight that he carries, of the success that he's had. But I just knew "New Light" was a big song. And it's a funny story that goes along with this. He's like, "It's somethin' missin'." So I grabbed one of my vintage LinnDrums, like the original LinnDrum, and I do a kick/snare/hat pattern that I just put it in there, he goes, "That's it! That's it!" So he goes, "Wait a minute," and he pulls out an MPC with some LinnDrum samples and does the exact same thing. He was like, "It doesn't sound the same, it doesn't feel the same." I was like "Yeah, 'cause this is analog, this is the original equipment." And we ended up putting that record out, and I think we would've done more, but he really wanted to work for a year, and I was like, "I don't have a year. That's a lot of commitment." John is, like, one of those genius level guys that throws genius music in the garbage.
Rhymefest – "Sister" (2006)
I was curious about this song because it uses the same Eddie Kendricks sample that you used on the first song on the first Common album. And then Kanye used the same sample on songs for 213 and Alicia Keys as well.
"Rap is an art, you can't own no loops," that's a lyric from Guru. With that one, Rhymefest brought the idea to me, and I was like, "You know I already did this?" He's like, "Yeah, but I just like the song." OK, I'll just help you get it sonically there.
With producers that use a lot of samples, I always wonder how much you have to hunt for records and listen to them just to find these little pieces that become new songs.
NO I.D.: In the early '90s, we'd go to New York, and the first people I meet are the Beatnuts and Buckwild and Q-Tip and all these sample diggers, and they started to teach me about it. So for years, all I did was go to record stores in the Midwest and buy and buy, and study and study, and listen and buy, hundreds and hundreds and hundreds and hundreds of records. After a while, I was like, I have so much stuff, I'll never use this in my lifetime. And then I just said, "I'm gonna stop lookin'." I'm gonna figure out how to be more creative with what I had instead of looking for a perfect loop. And that's what sends me on my trail, I just wanna be more creative with sampling.
Saba & No I.D. – "Back In Office (2023)
You've released two songs with Saba this year, "Back In Office" and "hue_man nature." Is this going to be an album?
NO I.D.: It is. We're calling it a mixtape, but it's an album. And it's deeper, because I'm co-managing him as well, and we made a ton of music. He's a great artist and a great producer that's growing into kind of an incredible producer. We started out just wanting to do a mixtape with some beats I had, and it just really turned into a great strong working relationship.
Have you known him a long time?
NO I.D.: Yeah, I knew his dad, that's the story. His dad [R&B artist Chandlar] did music back in the '90s, and we knew each other. He sang and played keys, and I met him via another Chicago pioneer, the Legendary Traxster. Years later, I was trying to find [Saba], and then I realized, oh, that's his son.
You're really working with multiple generations of Chicago artists now.
NO I.D.: Yeah, it's insane. I tried to sign him, he never really wanted to do a label deal like that, and then once I wasn't at Capitol, the business relationship kinda flourished more because we could just do what we want. "Back In Office" was a beat I did for J. Cole back in 2009. And then "hue_man nature" is kinda the beginning of us getting into what's on the way, which is incredible. Once we started to spend more time with each other, we just bonded and connected again. He moved to L.A., he's right around the corner from the studio. And it's like we had a project, and then we made a whole better project, and we just keep making better projects, so I'm excited.