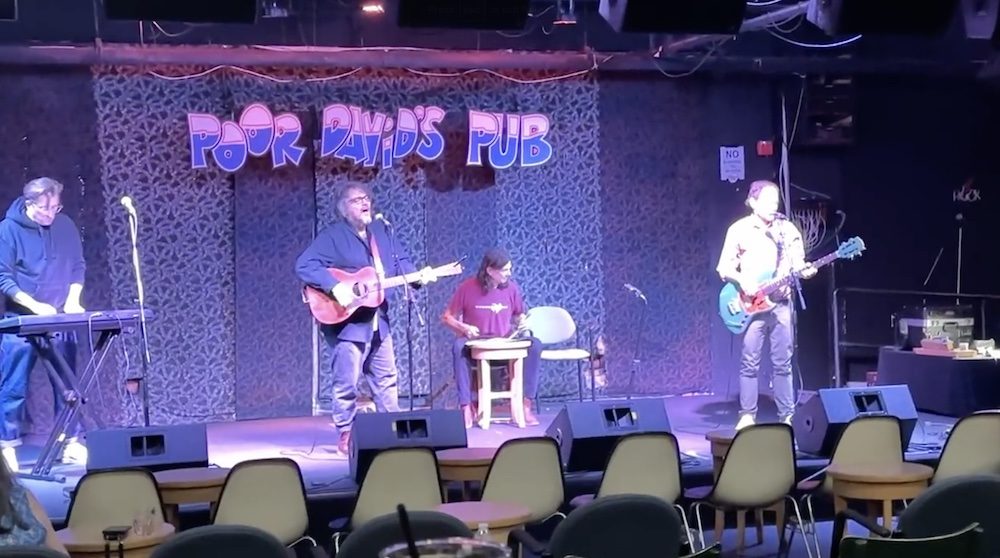 On Friday, Wilco released a new album, Cousin, and they kicked off a tour in support of it earlier in the week. On Wednesday night, between proper stops in Tulsa and Dallas, the band (minus Pat Sansone) performed at Poor David's Pub in Dallas for an open mic night, which is run by the singer-songwriter Rob Case.
Per Jambase, Wilco's Jeff Tweedy said they saw the open mic sign while driving and decided to drop in. They played 11 tracks — the setlist started with "Far, Far Away" and included covers of Bob Dylan and Stoney Edwards, plus some Wilco staples.
The band ended by backing open mic host Rob Case on one of his own tracks. Check out some video from the show below.
SETLIST:
"Far, Far Away"
"Tonight I'll Be Staying Here With You" (Bob Dylan Cover)
"Hate It Here"
"Too Far Apart"
"Passenger Side"
"It's Just That Simple"
"A Lifetime To FInd"
"New Madrid" (Uncle Tupelo Cover)
"She's My Rock" (Stoney Edwards Cover)
"Forget The Flowers"
"Give Back The Key To My Heart" (Doug Sahm Cover)
Thanks to reader Miles for the heads up!