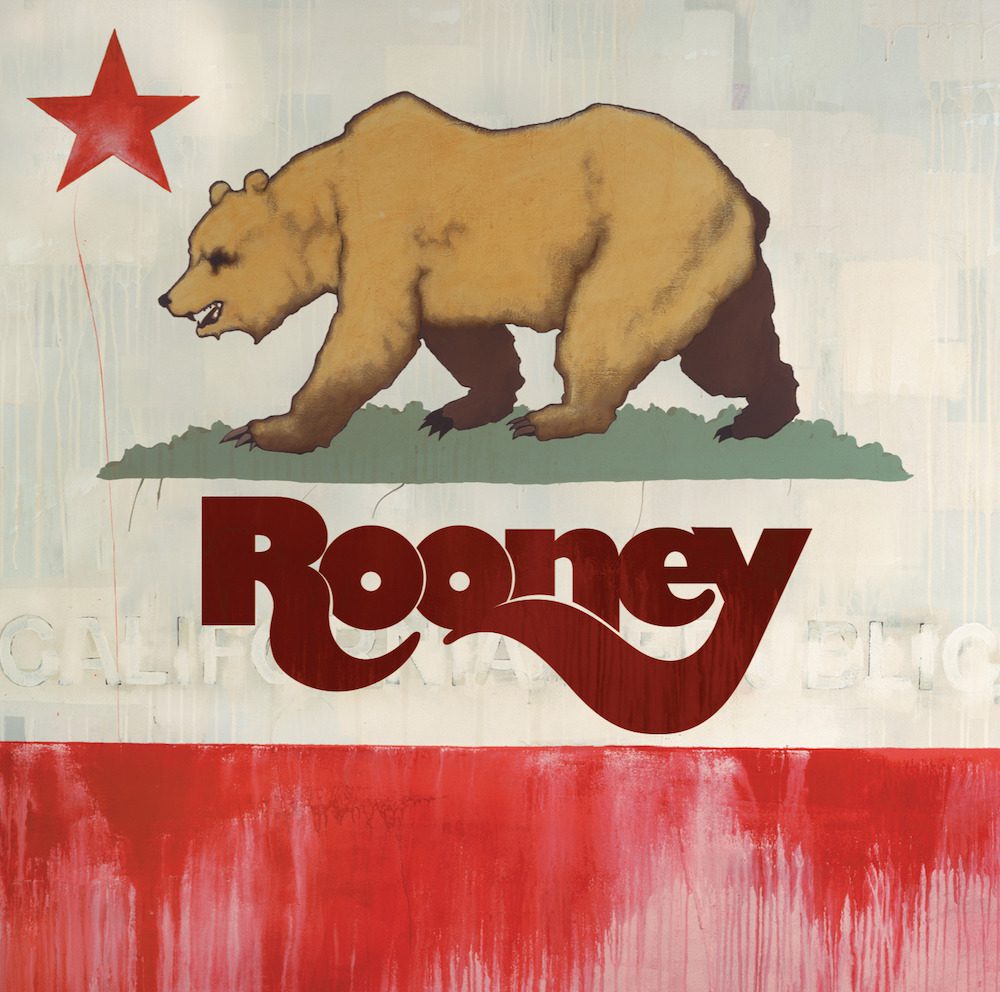 Few musical acts scream Time and Place the way Rooney do. Perhaps the most telegenic band of the early '00s, Rooney (named for Ferris Bueller antagonist Principal Edward Rooney) were one of the many retro-modern guitar bands that burst forth from the Strokesian rock revival. While the Strokes represented downtown NYC DIY grit, however, Rooney were entirely and unapologetically SoCal — think bell bottoms, shag haircuts and area rugs, Palm Springs, mid-century modern design, high-priced Hollywood recording studios where Jim Morrison once did something or other. In their high-gloss studio polish and various teen-TV/film cameos, Rooney were to the Strokes as the Monkees were to the Beatles.
Comparing Rooney to a TV parody act isn't intended to diminish their cultural contributions, particularly on their hook-stuffed, sun-bleached debut album, which turns 20 this Saturday. But their presence in TV (and film) has a lot to do with why Rooney could never be called "timeless."
The brainchild of Robert Coppola Schwartzman (sometimes also called "Robert Carmine," younger brother to actor Jason, who also played drums in the in sonically adjacent Phantom Planet), Rooney was a joint effort between guitarist Taylor Locke, bassist Matthew Winter, keyboardist Louie Stephens, and drummer Ned Brower. The quintet had Big California Dreams of being the next Beach Boys and working with the Cars' Rick Ocasek – dreams that, if I'm being cynical, were fully achievable given Robert's Coppola connections. (Robert is the son of Talia Shire, née Coppola, who played Connie Corleone in The Godfather films and Rocky Balboa's wife Adrian (Yo, Adrian!), and the late entertainment lawyer-turned-Bond film producer Jack Schwartzman. His cousins are Sofia Coppola and Nicolas Cage.)
Robert (I'm calling him Robert from here on out because there are too many Schwartzmans, and I frankly can't tell when he stopped being Robert Carmine and started being Robert Schwartzman) technically formed Rooney during his junior year at the Windward School — a highfalutin private institution in Mar Vista that also counts Max Bemis of Say Anything, Jakob Dylan, Anna Paquin, and Zoe Kazan as alumni. Robert put Rooney on pause, though, to attend Eugene Lang College (part of the New School) in New York. It sounds like Rooney and the West Coast were never very far from Robert's mind, as he flew home every month in his first semester and wrote what would become Rooney songs in his college dorm.
Around this time, Rooney — or what would become Rooney — made an appearance in the Disney rom-com classic The Princess Diaries (2001), where Robert played Anne Hathaway's love interest, Michael Moscovitz. Rooney's eventual single "Blueside" also showed up in the movie, particularly in an early scene where "Michael" and the band hold band practice in a garage. "I was playing live shows around LA as a musician, and I think [director Garry Marshall] thought, 'Oh, this is interesting. He's really, you know, appropriate for this role in many ways,'" Robert told Billboard in 2021. "It was authentic, and audiences saw that kind of connection," he adds. "It's not forced upon the character."
Without getting too far off topic, this wasn't Robert's first foray into film. A couple of years prior, he'd had a bit role in his cousin Sofia Coppola's directorial debut, The Virgin Suicides. A few years later, he and the rest of Rooney would cameo in Josh Schwartz's The O.C., playing the vintage-pop gem "I'm Shakin'." One band cameo in one teen show wouldn't have moved the zeitgeist needle much, but The O.C. would become a groundbreaking piece of media because of the way it wove music — indie-presenting rock in particular — into the show's soundtracks, not to mention its characters' lives. (The only reason anyone remembers Phantom Planet is because "California" soundtracked the opening credits. Also, recall what a Death Cab For Cutie freak Seth Cohen was. Death Cab have talked about this mainstream exposure as a reason for them moving from the indie label Barsuk to Atlantic Records.)
But back to Rooney's actual self-titled debut, which, despite the nepo-baby madness of its creation, really, really rules. Connections, after all, only get you so far in the critical realm. Adam Levine has a similar backstory to Robert's; his dad founded LA retail clothing chain M. Fredric, and Levine attended the Brentwood School, where he met two future Maroon 5 bandmates. Maroon 5 are still around, famous, recording, and touring, but Levine is more or less a snarked-on tabloid fixture at this point, rather than a well-respected musician. Rooney, which is just Robert and a rotating backing band these days, went on tour with the Zombies last year, and in 2013 he scored Gia Coppola's film Palo Alto with Dev Hynes aka Blood Orange. His life looks more low-key from the outside 20 years later, but I get the impression that he's OK with that.
Whoever marketed Rooney back in 2002/2003 knew what they were doing, too, at least in terms of getting the band some visibility. One summer before their self-titled dropped, Rooney opened for Weezer — their first national supporting slot. Not bad. In addition to The O.C., "Blueside" was featured on the Tiger Woods PGA Tour 2004 soundtrack (random, but OK), and "I'm Shakin'" was in an episode of All My Children.
After touring with Weezer, Rooney opened for the Strokes in fall 2002 — the ultimate runway for an album release. The album in question wouldn't come out until summer 2003, and in the meantime they toured with OK Go, the Donnas, Pete Yorn, and Grandaddy (a real 2003 who's who). Finally, when Rooney did drop, the band promoted it by traveling around with the final touring edition of Lollapalooza, where they played the main stage with Audioslave, Queens Of The Stone Age, Jurassic 5, Incubus, the Donnas, and Jane's Addiction.
A collection of time-specific events – between the TV shows, movies, bands, and the rock revival moment itself – have overtaken Rooney and submerged the band in a Titanic-sized riptide. But let's remove all that thrift-store flotsam from the album. Because: What an album! Rooney had been personally signed to Geffen/Interscope by chief bigwig Jimmy Iovine, and the band was really hoping to get Ocasek, who apparently loved the demos, to produce. Ultimately, the producing/engineering job went to the guys who worked on the demos, Brian Reeves and Keith Forsey. The latter is no slouch: Forsey's best known songwriting credit is Simple Minds' "Don't You (Forget About Me)," and in 1984 he won the Oscar for co-writing "Flashdance… What A Feelin."
It's safe to say Rooney were in good hands with Forsey and Reeves. Rooney sounds like it started as a DIY garage-band project but went through the production carwash so many times that it came out looking and sounding like Danny Zuko's fantasy ride in "Greased Lightning." The album is a pair of pre-distressed designer jeans that cost way too much but make your butt look perfect.
Opener "Blueside" flip-flops from three-chord rocker to clean-cut "Surfin' USA"-style harmonies. Follow-up "Stay Away" takes clear cues from Weezer's "Buddy Holly" (produced by Ric Ocasek!) with its power-pop oomph. Mid-tempo fuzz-waltz "If It Were Up To Me" was my personal favorite as a teenager, with its call-and-response chant of "Our love – OUR LOVE! – is the best love – BEST LOVE!" The lyrics are completely silly but somehow work. Robert is infatuated with someone and waiting for them to commit. "If it were up to him," this person would stop being all wishy-washy and give their relationship the green light. He even invokes the girl's parents: "Well, your mother likes my smile/ And your father likes my lifestyle/ Should I ask them what I asked you/ To get the answer?" Young Robert, if you've never met a woman before, allow me to educate: Sidling up to her dad? Not sexy. Have you never seen The Wedding Planner?
Later, a close-read on "I'm A Terrible Person" reveals it to be something of a fuckboi anthem. Robert does some shady stuff to the lady he's seeing – such as reading her diary and telling his friends her secrets – and he's sorry-not-sorry about it. Boys will be boys! Deep down, though, he knows karma's a-comin', as the refrain goes, "It's gonna be a bad day come Sunday." (This was never my favorite Rooney song, not because of the "terrible person" stuff but more because it's melodically busy and lyrically overstuffed.)
"Popstars," meanwhile, is an unsubtle condemnation of the Y2K pop boom with Britney Spears and *NSYNC references ("Hey baby/ You've hit me again one more time/ You said bye bye bye bye bye bye good-bye"), deeming said performers "unsophisticated money machines" and "killers of rock and roll." Ah, 2003: Remember when we built our identities around what music genre we liked? No one could be a pop girlie and a rock girlie. You either shop at Abercrombie or Hot Topic. You can't have both.
The latter half of Rooney is actually stronger than the top half — yes, I said it. We've got sing-along charmer "I'm Shakin'," the sonic bouncy-ball "Sorry Sorry," and the organ-led "Simply Because," which is just plain fun due to the rhythmic refrain: "I-could-never-really-love-you, simply-Bec-AUSE, simply-Bec-AUSE." Then there is deep-cut "Daisy Duke," which reads as a bit problematic now ("You're too young for me/ But I can keep a secret," Robert purrs), but it spoke to me at 17 because I had a giant crush on a 22-year-old pizza-shop employee who (rightfully) said we should hold off on dating due to my not being 18 yet. Good on you, John from ALJon's Pizza. Stand-up guy, wherever you are.
Looking back, it's amusing how badly Rooney want to appear like complex creatures on their debut, which goes down so well because of its straightforward pop appeal. Rooney are one part shaggy-haired ne'er-do-wells who will page through your journal, wouldn't say no to an underage tryst (yeesh), and cannot commit to a relationship "simply because of the trust." At the same time, they're hopelessly misunderstood dorkos you could totally bring home to mom and dad. I suppose we all hold multiple truths within us.
Even if its lyrics have curdled somewhat with time, it's still impossible to choose a favorite track on Rooney – each one is just too damn catchy. In 2016, Robert told Huffington Post: "I've always worked hard when I've made Rooney records to try to make every song have something special so that there's no filler. It's just all killer. That's the saying. I don't try to just write singles and then just put a bunch of junk on the record. I want every song to be the best song on the record."
Rooney may not have become the next Beach Boys (or Weezer, or the Strokes), but they did help define an era and achieve a commendable post-Y2K career. They released four total albums, most recently 2016's Washed Away. Plus, Robert had/has an obvious gift for crafting timeless hooks – "When Did Your Heart Go Missing," from the band's 2007 sophomore album Calling The World, has more than 34 million Spotify streams and is an absolute banger. He also sounds like a pretty level-headed guy in terms of artists' rights and musicians getting paid (they should and very often don't).
"I think it's important for artists to establish the value of their music, and to change the cultural perspective on the value of music," he told Huffington Post. "Because it is up to artists. Artists do define this industry. We can't forget that. We can't just roll with it. And you see it when big artists, like Adele or these people say, you can only buy my album as a whole. But these top-level bands don't define the industry. It's a bottom-up change, it never is top-down. It's always funny to me when I read an article where it's like, 'Beck says today's industry is better than ever!' and it's like… yeah, for Beck, maybe. Those guys are so established and have such a big audience that they could do anything, to some degree, and people are going to take notice of it." This coming from a Coppola — Adam Levine could never.