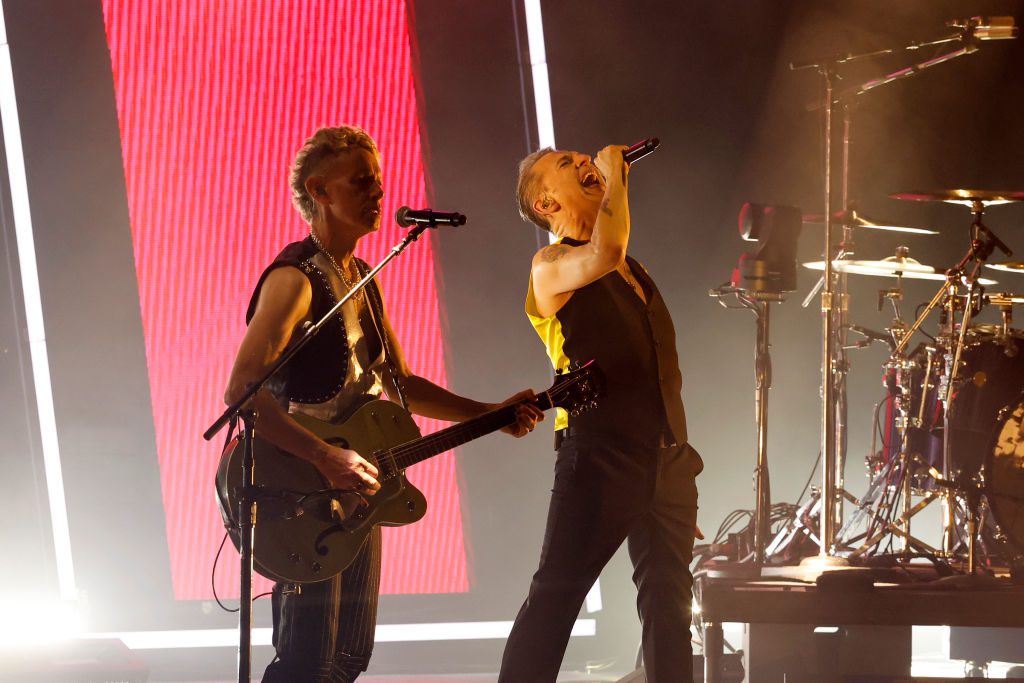 Today, Depeche Mode, synthpop elder gods and inspirers of entire internally warring tribute-band scenes, release their new album Memento Mori. Last night, the group kicked off their massive world tour at Sacramento's Golden 1 Center. Depeche Mode have been on the promotional trail for months, playing late-night shows and whatnot, but this was the first full-on DM gig since 2018, which means it was also the first since founding member Andy Fletcher died last year at the age of 60. It seems like it was an emotional experience for everyone involved.
Depeche Mode opened last night's set by playing their Memento Mori single "My Cosmos Is Mine" live for the first time. The track sounded vast, and they looked cool as hell. (Depeche Mode have always understood the power of theatrical lighting.) Here's a fan-made video of that opener:
Here's Martin Gore doing a soft solo version of the new song "Soul With Me," another song that the band had never played live:
But people don't come to Depeche Mode shows to hear the new songs, and the group knows that. DM played a whole lot of classics last night, including all the ones you'd expect. ("Never Let Me Down Again," which just got a revival thanks to a needledrop on The Last Of Us, was the second-to-last song that they played; it has not yet replaced "Personal Jesus" as Depeche Mode's closer.) Depeche Mode dedicated their Violator classic "World In My Eyes" to the late Andy Fletcher, flashing images of his face on the screen behind them while the song played.
Depeche Mode also made some big changes to the presentation of some of those older tracks. They kicked off their encores with Dave Gahan and Martin Gore singing "Waiting For The Night," another Violator classic that they haven't played since 2009, as a close-harmony duet. They stood together on the lip of the stage, and when the song was over, they bowed to each other and shared a big hug.
"A Question Of Lust" was once again a Martin Gore solo song, but Gore sang the full synthpop rendition, rather than the acoustic version he's been doing for the past decade.
The group also brought back "Sister Of Night," from 1997's Ultra, which they hadn't played live since 2009. For the first time ever, Dave Gahan sang the lead vocals on that one.
Here's last night's setlist, via Setlist.fm.
SETLIST:
01 "My Cosmos Is Mine"
02 "Wagging Tongue"
03 "Walking In My Shoes"
04 "It's No Good"
05 "Sister Of Night"
06 "In Your Room (Zephyr Mix)"
07 "Everything Counts"
08 "Precious"
09 "Speak To Me"
10 "A Question Of Lust"
11 "Soul With Me"
12 "Ghosts Again"
13 "I Feel You"
14 "A Pain That I'm Used To (Jacques Lu Cont Remix)"
15 "World In My Eyes"
16 "Wrong"
17 "Stripped"
18 "John The Revelator"
19 "Enjoy The Silence"
////
20 "Waiting For The Night"
21 "Just Can't Get Enough"
22 "Never Let Me Down Again"
23 "Personal Jesus"
Memento Mori is out now on Venusnote/Columbia.